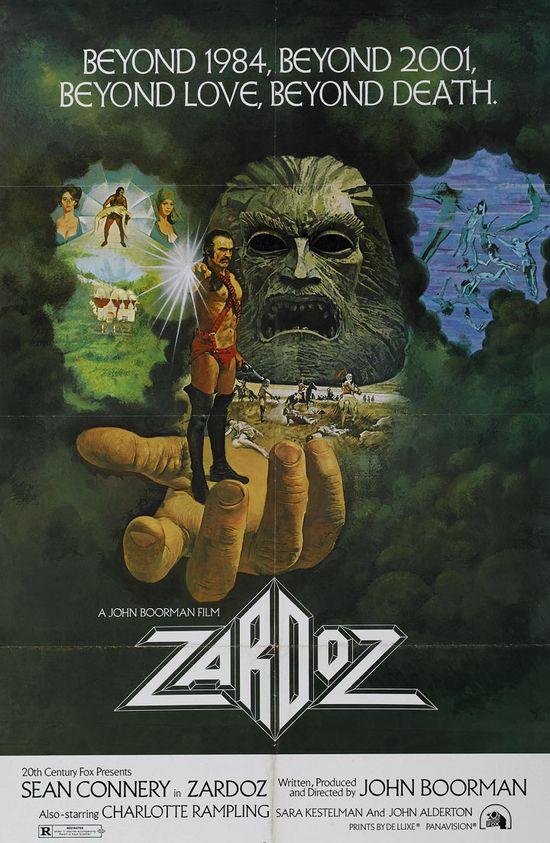 Year: 1974
Duration: 01:41:43
Directed by: John Boorman
Actors:  Sean Connery, Charlotte Rampling, Sara Kestelman
Language: English (German, English, Spanish subs)

Country: UK

Also known as: Tas tanri Zardoz, 
Description: By 2293 mankind is divided into two distinct groups. Elite lives in luxury, comfort and tranquility under the constant protection of high-tech means of suppression of external aggression. The rest of the world's population is living in poverty and worship to the vicious creature Zardoz.
Poor people have their leaders, with more advanced weapons, with which they have control over the main part of the masses. One of these leaders decided to put an end to injustice, destroying fortifications of elite and capture their territory.
Review: Ironically, this film is considered to be thrash. Scolded ridiculous costume hero S. Connery (two red stripes and high boots), confusion and the turbidity of the plot (especially at the end) and so on. But is, gentlemen my, this is important? You know, take, say, "Possessed" by Dostoevsky – there also is absurd, there is haze, but the main idea after all, and everything is great.
In various reviews that you can read very different reading of the film. As if people were watching different movies, really. I will highlight a few semantic dimensions:
– Environmental. The film flashes leaflet Save our soil (SOS) – one of the slogans of the Greens. "Zardoz" shows the consequences of population growth and pollution.
– Cross-class, almost Marxist, but rather in the spirit of the "War of the Worlds." Elites hate the "cattle" – a maxim. And if necessary, throw it, and the people will not be considered.
– Super-rational, postpositivist. The film clearly shows that playing God and hope for the omnipotence of rational man infertile and will only lead to a sincere desire for death.
To some extent, by its much more powerful message of the film of the same as "A Clockwork Orange"
Screenshots:
Download: