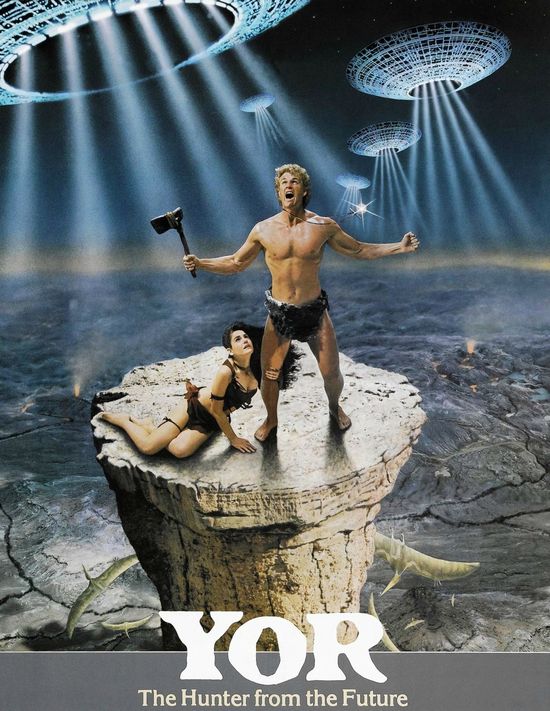 Year: 1983
Duration: 01:28:39
Directed by:  Antonio Margheriti
Actors: Reb Brown, Corinne Cléry, Luciano Pigozzi
Language: English
Country: Italy, Turkey
Also known as: Il mondo di Yor, Yor – O Caçador do Futuro, Yor, el cazador que vino del futuro, Yor, Yor, le chasseur du futur, Yor, o ekdikitis apo to mellon, Yor: mysliwy z przyszlosci, Yor, O Caçador do Futuro,  Yor – lovec iz prihodnosti, Einer gegen das Imperium,  Yor, the Hunter from the Future.
Description: Yor is one amazing piece of cheese. It's number three on my list of all-time favorite b-movies. Yor (Reb Brown) is a caveman with a totally sweet blonde wig that goes around killing various baddies including, but not limited to: dinosaurs, troglodyte smurfs, robots, more dinosaurs, and evil overlords. It's a truly bizarre blend of elements; so much so that it's hard to even decide on a genre. About an hour into the movie it takes a dramatic and seemingly out-of-nowhere change into sci-fi territory. It's bizarre. Also, awesome. Make a note of how many societies (both good and evil) he leaves in ruins by the time he vacates the premises. It could easily be a drinking game. This movie has elements of action, adventure, and sci-fi. However you classify it, cheese is the number one ingredient!

Review: Come on! How awesome is that? Lusty priestesses, mummified fire people, robots and psychotic scientists? If that doesn't get you psyched up to see this masterpiece, I think you're on the wrong website.
I think this is Reb Brown's greatest role – even better than Biff McBigLarge in Space Mutiny, which is a masterpiece in and of itself. He's got a hilariously goofy grin that he wears frequently in the film and it never stops being hilarious. I think it's the wig that ultimately pushes it over the top. The wig and that totally sweet theme song…"YOR'S WORLD HE'S THE MA-AAAN!" The movie also features the most creative use of a Pterodactyl ever seen in a film… It's amazing, that's all I'll say…
Part One: A young hunter named Yor descends from the mountains , getting into the fertile valley where a few minutes later rescues the girl and her guardian Kalu Paga from bloodthirsty tritseratopsa . Actually, looking for a fight with this beast can safely judge the quality of the film. Yor withdrawn in Kala village where feasting her peaceful tribe . Everything changes when the village is attacked savages led by their leader and monkey Yukanom . Almost all killed, but Yoru , Pagu and Calais escapes . As you may have guessed, the whole movie will be dedicated to this adventure toritsy . They are waiting for the battle with the savages , searches tribeswoman Yor in the sandy lands of the people and meeting with residents on the coast, which would indicate Yoru way to land his ancestors.
Part Two: Village on the coast somewhere outside shell laser beams. Yor Friends hits the island where he is attacked by … robots . Yes, you heard right . Toward the end starts a completely different game . Supreme ruler connected with the army androyda desiring to enslave the world and destroy all the barbarians , as well as the rebels , dreaming of the same lord finish . They open Yoru mystery of its origin. At first glance, such a hodgepodge causes only laugh , but there 's definitely something there . The film won primarily due to the contrast . I personally was very interesting to watch as savages , abandoning useless axes, shot blasters polished robots.
At first glance, the film may disappoint . Most of the time the viewer indicate savages with stone axes galloping along the sandy cliffs and caves. Physics is completely absent , which is worth at least ten killogramovogo throwing the sword with one hand on the dead or flying pterodactyl . Low Rate and the failure pattern is not surprising. A good part of the budget spent on the final part . Nevertheless , the film has a number of advantages , and ( so far without them.) Personally, I was pleased with the music. Composition «Yor` s World » and especially music in the finals was amazing. Set design in the second part , of course, deserves respect. In most scenes the film is not without logic. Spared no money and scope of a no pattern , felt. The film always something explodes , falls , burns or dies . Dynamics he does not hold .
Screenshots:
Download: