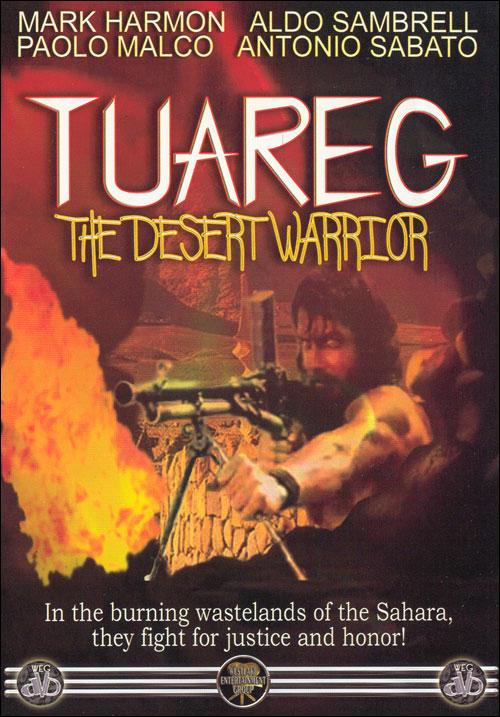 Year: 1984
Duration: 01:36:56
Directed by:  Enzo G. Castellari

Actors:  Mark Harmon, Luis Prendes, Ritza Brown

Language:  English

Country:  Spain | Italy | Israel

Also known as: Tuareg – Il guerriero del deserto, Desert Warrior, Tuareg
Description: 
Old people say that no one has ever returned from the Land of the Dead alive, but Gacel Sayah  knows that they are wrong. His father sojourned in this part of the desert before he met his mother. And the son could not maintain the reputation of the father. The first time he went to the Country of the Dead to pass the ritual of initiation in the Tuaregs. The second time – many years later, to prove the wilderness: Gacel Sayah  still capable of much. Now bold Tuareg lives with his family in one of the distant corners of the Sahara. Lives and does not think that one day trouble coming again in his house.
Once out of the wilderness came two of the dying wanderer, who asked Sayah seekers. Following the strangers came from the desert soldiers, who demanded to give them the fugitives. Sayah   could not do it; by the law of the desert, he already gave shelter fugitives, but the soldiers would not understand. They took hostage the son Sayah and his people, and then pulled him out of the guests of the tents. One – shot, second – they drove away. Soldiers could not apply Tuareg greater insult than what they have now. After half an hour after their departure Gacel Sayah  said goodbye to his wife and son, his camel, and the old Winchester and reliable paternal blade and went to restore the honour of the family.
This movie was filmed by director of Street Law and New Barbarians flicks.
Review:
Screenshots:
Download: