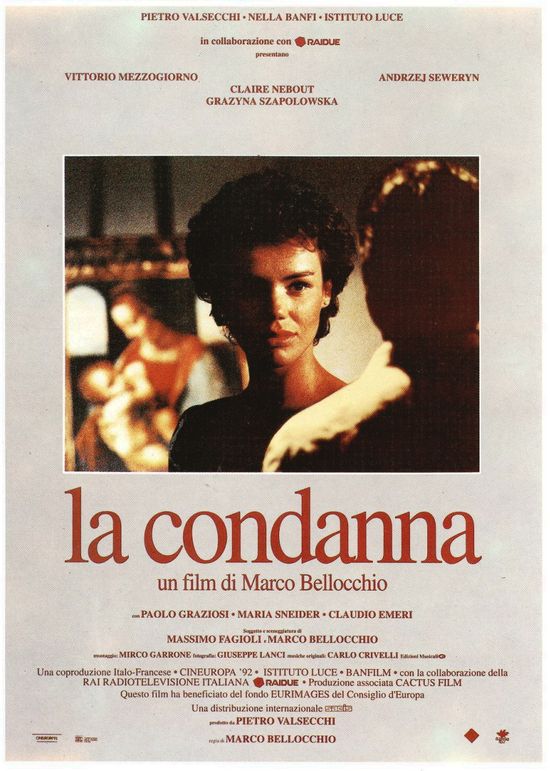 Year: 1991
Duration: 01:30:09
Directed by: Marco Bellocchio
Actors: Vittorio Mezzogiorno, Andrzej Seweryn, Claire Nebout
Language: Italian (English subs)
Country: Italian
Also known as: La Condanna, The Condemnation.
Description of The Conviction movie: In this Italian movie with English subtitles, a young, beautiful woman, Sandra, goes on a  tour of a wonderful old Italian castle which is filled with art. The tour is led by handsome, sensitive  architect, Lorenzo,  to whom she is unquestionably attracted.  After the tour, Lorenzo and Sandra are locked into the castle together for the night.  The two  have sex multiple times.  After the initial times, Sandra clearly enjoyed the sex. Subsequently, she accuses Lorenzo of rape, while he claims that the sex was consensual. Lorenzo is brought to trial and convicted. The prosecutor,  who initially was convinced of Lorenzo's guilt, however, has serious doubts about his case,  in part because he believed Lorenzo's testimony that Sandra  had an orgasm when they were having sex, something his lover never does.   Consequently, he visits Lorenzo in jail to see how he brings women sexual pleasure.
Review of The Conviction flick: Lorenzo, a middle-aged architect , " urges " to love frivolous student Sandra actually provoked him to do so in a closed museum hall . Girl with copulation experiencing serious orgasm, but despite this , goes to court , accusing a man of rape. At trial drained crowd of women , looked down on the accused with a sense in which reverence rapist difficult to distinguish from voluptuous desire to become his next "victim" .
Parallel in the plot unfolds the story of intimate relationships leading the case prosecutor. Trying to achieve sexual pleasure , he could not give any chance to his unhappy wife to experience the infamous orgasm . Then other people's destinies Actor finds nothing better to do than go to jail to extort from the landed behind bars architect secret of his success with women.
He explained to the judge that without a bit of violence in this case is not necessary. However, Council put into practice the prosecutor has failed because it is no longer able to transgress through personal complexes and entrenched ideas about intimate relationships …
The film is constructed primarily as a trial, where different parties are trying to figure out : can a woman raped , tested at copulation pleasure? Description details the act of adultery exposes a large architect specialist in the practice of sexual intercourse. It turns out that the defendant seriously concerned not so much just to finish as the search of the philosophical aspects of this fascinating procedure.
The only thing that confuses from view, so this is bordering on pathos seriousness with which the 52 -year-old Italian Marco classic Bellokkio trying , like his hero , give Freudian libidinal underpinnings of sound , while if enlisting some popular textbook entitled " Psychoanalysis for Beginners . " Yet contradictions and themes raised piquancy wakes mixed thoughts and mostly ironic reflection.
Screenshots:
Download: