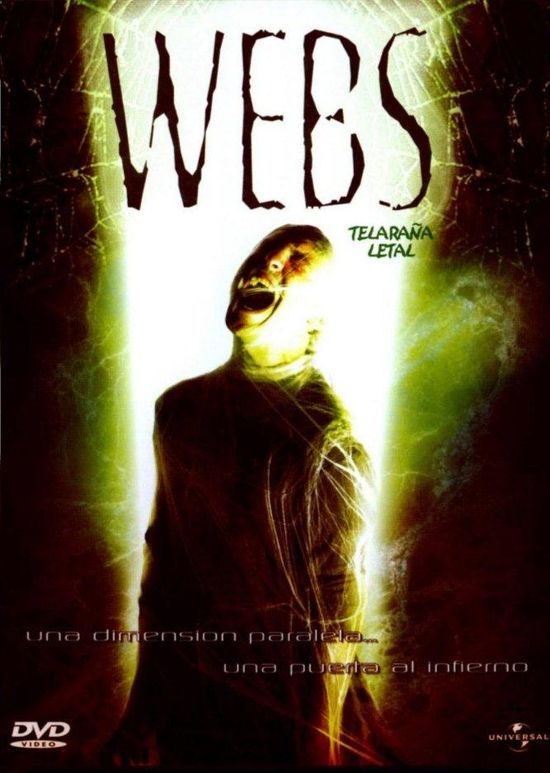 Year: 2003
Duration: 01:23:32

Directed by: David Wu
Actors: Richard Grieco, Kate Greenhouse, Colin Fox, Richard Yearwood, Jeffrey Douglas, David Nerman, Jason Jones, Anthony Ashbee, Craig Blair, Dylan Bierk
Language: English
Country: USA
Also known as: Armee der Besessenen, Webs – Una dimensione parallela

Description: Dean (Richard Grieco) and his three colleagues – Sheldon, Junior and Jones are electricians on a mission. Not really! They have to check out an old building in Chicago that is going to be demolished in approximately 6 hours time. They need to close all electrical appliances and ensure no-one is in the building before its blow-up. The first few minutes of the scene tells me that Dean was the main character as he said some meaningful thoughts (cheesy as heck though); which was along the line of 'Just imagine all the history that has gone on in this building, and it is all going to be destroyed'. I should just gave up on the film at that point but I was hoping this B-movie can prove why it still exist on the shelves.
They discovered a bolted door and curiosity has got the better of them, as they managed to open it. The room was fill with electrical machines, and being nosy electricians meant they have to fidget buttons. Fidgeting buttons lead them to open a portal to the parallel universe (Ooohhh). Arguments and boisterous pushing and shoving caused Dean and Jones to fall into the portal, to a nice modernised Chicago….with webs!
It is night-time in the New Chicago, without anyone in sight. The fact that it is so clean with webs would make me alert and to question where is everybody.
Later, Sheldon and Junior manages to come through the portal and joins the others. Soon the real deals are introduced, as the electricians are confronted by human-looking eating monsters, with huge yellow teeth and long black claws (nice). I should have turned the film off at this point, but I was also too nosy on the parallel universe fiasco. The effect on the Spider-men were so fake, it was really hard to take the film seriously from then onward. They did not even move like professional actors, as they were waving about as, 'Look, I'm on the telly', with incredibly dodgy wigs on.
As it happens, they were rescued by humans who have been fighting these monsters for decades. You will learn from them that once they are bitten, the men can be used as the Queen Spider's soldiers, whereas the females are used as food. Soon the electricians were taken to see Dr Richard Morelli (Colin Fox) and the rest of the surviving humans. It happens that Morelli was the creator of the portal machine from our planet and was trapped for 30 years due to electrical failure and was never able to return home. By coming through, he has also opened up a dark portal, which also invited the Queen Spider from another world. The electricians are the only hope to transfer all surviving humans back to our world.
Screenshots
Download