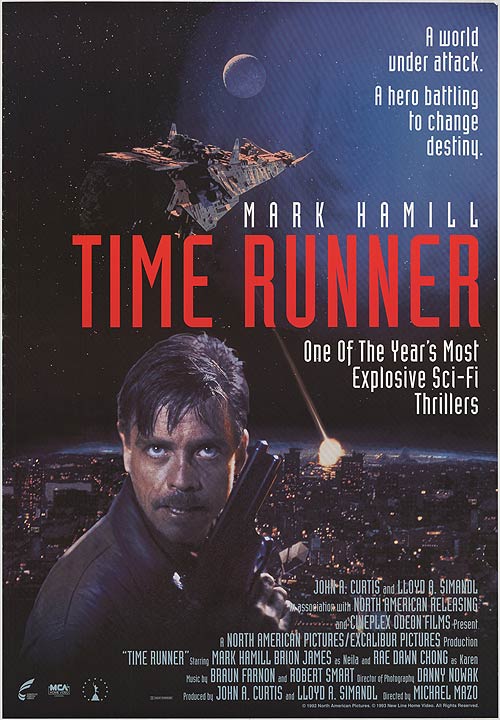 Year: 1993
Duration: 01:32:18
Directed by: Michael Mazo
Actors: Mark Hamill, Rae Dawn Chong, Brion James
Language: English
Country: Canada / USA
Also known as: In Exile, Az idő száműzöttje, Exoria, Guerrier du temps, Perseguido por su pasado
Description: The film begins in the year 2022. The earth is suffering from external intrusion. Survivors are fleeing the planet on the spacecraft. People can't change things directly – the time has gone, but realize that they can influence the future by changing the past.
One of the astronauts Michael Raynor gets in the turbulence of temporal field and finds himself in 1992. There he meets pretty woman-scientist Karen Donaldson, which ironically depends nuclear threat to Earth in the future. It turns out that all the problems are coming from the President Neila.
Raynor with Karen want to prevent become Neal President. But Neil and his supporters not wasting his time. He wants to find her mother Raynor in 1992 and destroy it. Then Raynor be born and will not interfere become Neal President. Who is stronger, and that will Land in the future?
Review: Starring Luke Skywalker and Brion James, this is a crap Terminator ripoff. Aliens blow up da urf in 2022 and Mark Hammill flies back in time through a wormhole to the year 1992 to warn everybody. Brion James plays the president of future urf and Rae Dawn Chong plays herself… I mean she plays an alien. And there's people chasing and shooting everyone most of the time.
I emailed Stephen Hawking to find out if this could really happen and he hasn't gotten back to me.
Screenshots:
Download: