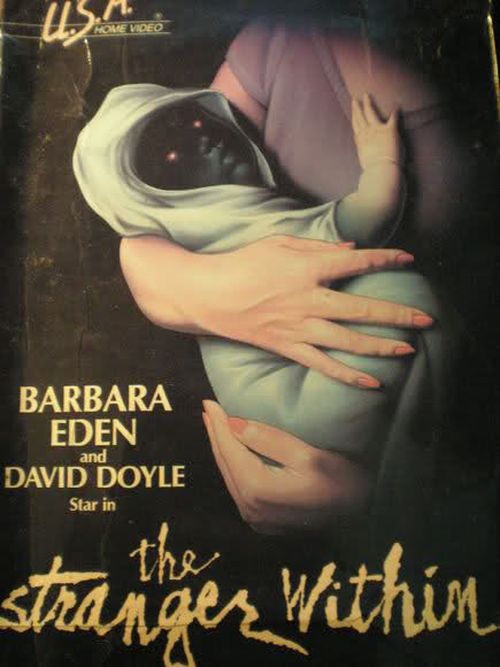 Year: 1974
Duration: 01:14:13
Directed by: Lee Philips
Actors: Barbara Eden, George Grizzard, Joyce Van Patten, David Doyle and Nehemiah Persoff
Language: English
Country: USA
Also known as: Trespass, L'étranger, Un extraño dentro de mí, Tuntematon yhteys
Description:
Welcome to my time machine!  I'm about to take you back to a time before time, the world of long, long ago… the year of 1974.  This was a time before Blu-Ray, DVD, VHS, Satellite and Cable television, and hell, even before the legendary 8-track tape.
In 1974 there were only 3 television stations, each of them constantly engaged in a war over ratings dominance.  Always seeking new content to pull in audiences, the networks began creating their own films to be broadcast on their networks as a change from the sitcoms and crime dramas.  ABC pioneered this approach with their ABC MOVIE OF THE WEEK.
In 1974, ROSEMARY'S BABY and THE EXORCIST had both done big box office in recent years, and the imitations and rip-offs were entering full swing.  Not to be outdone, the television networks entered the rip-off sweepstakes.  THE STRANGER WITHIN was one such movie, invoking the horrorific satanic overtones of those earlier films, while sanitizing the content for television audiences by removing Satan from the equation.  As an added bonus, THE STRANGER WITHIN was made in the wake of the then-recent Roe Vs. Wade decision, ensuring an extra heaping of exploitation value.
Written by veteran horror scribe Richard Matheson, THE STRANGER WITHIN premiered on the ABC MOVIE OF THE WEEK on October 1, 1974.  THE STRANGER WITHIN tells the tale of Ann Collins (I DREAM OF JEANNIE's Barbara Eden), who discovers that she's pregnant despite her husband's vasectomy.  Soon afterward, she starts acting flaky, eating raw meat and fish (she especially digs octopus tentacles!), drinking gallons of scalding hot coffee, and putting an overabundance of salt on her food.  She also starts painting weird pictures, sleeping in the freezing cold, and speaking in weird languages.  Could it be…SATAN?!?  One would think so, but this being network television, a much more acceptable source of weirdness for mainstream television audiences was used.
Screenshots:
Download: