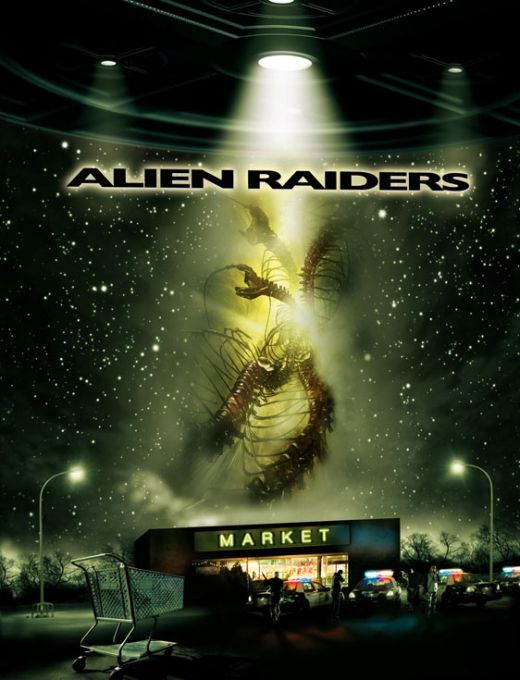 Year: 2008

Duration: 01:21:41
Directed by:  Ben Rock
Actors:  Carlos Bernard, Mathew St. Patrick, Rockmond Dunbar
Language: English (English Subtitles)

Country: USA
Also known as: Alien Raiders – Os Invasores; Alien Raiders – Tappavat tunkeilijat; Amenaza extraterrestre; Exogiinoi eisvoleis; Idegenek a pokolból; Inhuman; Reféns do Desconhecido; Supermarket; Vanzemaljski osvajači; Yaratik Istilasi
Description: Evening shift at the supermarket, "Hastings" – in Buck Lake, Arizona. But the normal monotonous activity broken at 11:07 pm, just before closing when a group of heavily armed militants invades the store, immediately killing several workers and shoppers take over the other hostages. Although at first capture as the robbers or terrorists, they reveal that they are rogue scientists who discovered the alien caterpillar pests in this store. On this night, and they are determined to find out which of the survivors to instill an alien substance and destroy invasion at any cost.
Review: A surprisingly good movie, considering how terrible the title is (At least didn't the name it Find the Scary Thing From Outer Space in the Supermarket People), I really liked this little flik. A direct to video release, sadly it never got the attention it deserved. Great plot with a fairly original premise, I recommend it without hesitation.
A good movie to pass the evening in front of the TV. Direction, script and acting at a very decent level. I'm so glad that this is not a big budget, people can pretty common theme of aliens to do so interesting film that keeps the audience in suspense from beginning to end. And interest is not lost, even though after the first half of the film is easy to guess which of the alien characters "King."
As a result, we get a very high quality film, which will be interesting for all fans of science fiction and detective stories. And fans of the series «X-files» and the movie "The Thing" John Carpenter's creation must watch this!
Screenshots:
Download: