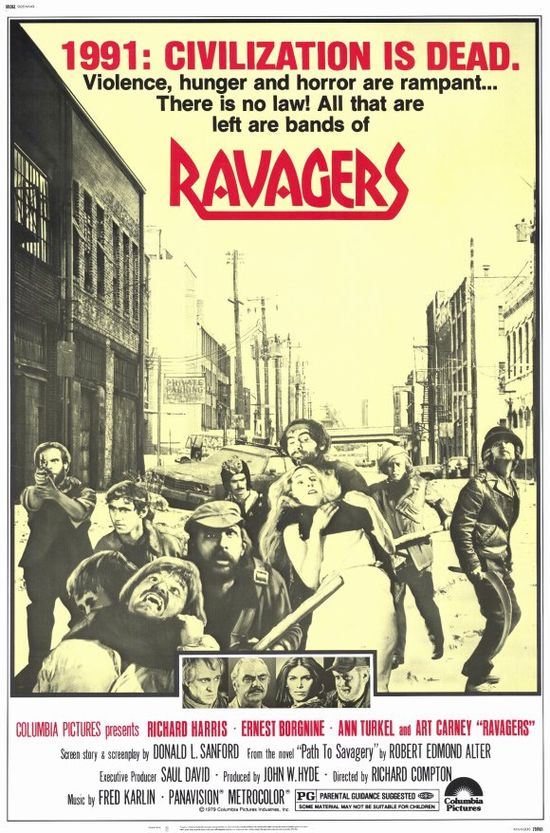 Year:  1979
Duration:  1:30:55
Directed by:   Richard Compton
Actors:   Richard Harris, Ernest Borgnine, Ann Turkel 
Language:  English
Country:  USA
Also known as:  El planeta de los buitres , O Novo Princípio , Tuhoojat , To ximeroma tis megalis sfagis , Krig uten nåde , Os Saqueadores , Yagmacilar , Zum Überleben verdammt
Description: In smaller print underneath: "Violence, hunger and horror are rampant . . . There is no law! All that are left are bands of RAVAGERS." You could see the evil ravagers right there in the poster, groping a woman and brandishing guns and looking very bad against the backdrop of a post-apocalyptic Morris Avenue.
Ravagers would be the biggest Hollywood production that Birmingham saw at the end of the 1970s. The film was pretty much doomed, too. Star Wars had dominated 1977. It was a surprise hit—especially for the executives at 20th Century Fox, who thought Damnation Alley would be their sci-fi hit of the year. 
That tale of post-nuke survival bombed. Space operas were in, apocalyptic mayhem was out. Ravagers was filmed all over Alabama—with several days in Birmingham—but there couldn't have been much enthusiasm for the production.
In the end, the film was barely even released. Ravagers played Birmingham, of course, but not many other markets. I've never seen it shown on commercial television. There doesn't seem to have been a U.S. VHS release. Nothing seems likely on DVD, of course.
But there was a VHS tape released in England. Maybe Ravagers sold some tickets overseas. Europeans love the idea of America looking desolate. Thanks to our foreign friends (and friendly bootleggers), Ravagers still exists for viewing. Here's what the American Film Institute is forgetting to preserve.
Ravagers begins with a typical '70s matte painting of a generic post-apocalyptic world. Maybe it's left over from a Planet of the Apes movie. The credits run over a mopey theme by two-time Oscar winner Fred Karlin. You have to admire that cast, though. Richard Harris, Ernest Borgnine, Art Carney, Woody Strode—and there's even Seymour Cassel, who was then best known for amazing turns in indie films like Faces and The Killing of a Chinese Bookie.
The matte painting fades, and there's some nature footage while our hero Falk—played by Harris—is describing the world's sorry state.
"After the disasters," he explains, "it was as if life itself nearly stopped. Everything burned. Afterward, nothing seemed to grow again. Nothing. The cities died. People looted them and ran to the seas, but the seas had died, too. Empty. And then it rained again. The land and the people were still barren. People died of disease and hopelessness. Those who could, flocked together. Others became like wolves, hunting and killing everything that moved. They were ravagers."
Screenshots
Download