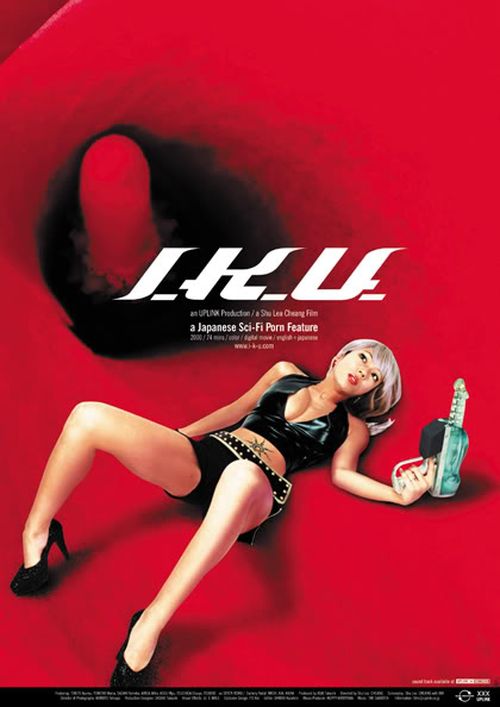 Year: 2000
Duration: 01:07:34
Directed by: Shu Lea Cheang
Actors: Aja, Akira, Miho Ariga
Language: Japanese (English subs)
Country: Japan
Also known as: I.K.U. (Orgasme), IKU, I.K.U. I Robosex

Description: GENOME Corporation is developing a new technology to have an orgasm without a partner, when you connect to a specific server. Seven sex cyborg model "Reiko" programmed to accumulate sexual experience, go to New Tokyo to collect the necessary information.
Review: Despite director's intentions, I.K.U. has been promoted, censored and therefore accepted as "cyber-porno". Just as many have already criticised, something here has failed to be entitled as "pornographic", at least in the classical meaning of the term. That aside, the impact of the film is still terrific ten years after it was shot. Whether or not the film is "cinematographically" successful, I.K.U. gives us some insight into how to organize one's own desires, contradictions, obsessions etc., to make them weave into a black-and-rose digital psychedelia.
If Iku were to be somehow rendered into a liquid form it could be packaged in aerosol cans and sold as erection repellent. Imagine the most hardcore pornography you can come up with, directed by David Lynch, and filtered through MTV. Then slap mosaics on everything. That's a decent – although not suitably visceral – analogy for what it's like to sit through Iku. While occasionally pornographic I think it's almost unfair to the movie to lump it into pornography. Instead I would like to think of it as a film designed with the sole intent of confusing and frightening the viewer.
Shape shifting penis-armed robotic women in a virtual reality. African-Americans with penises that later in the film turn into vaginas. Transvestites in pink wigs moaning in a convertible while riding an elevator. These are just a handful of the outlandish sights in this jumbled and borderline nonsensical film. Iku fails utterly as pornography. There are some gorgeous women in it, and they do appear naked, but that is immediately offset by all of the bizarre interludes, the fast editing, and the cock-arms. If you're watching Iku to see guys have sex I don't see why you would be any less disappointed since there's an even smaller amount of homosexual pornography. The one thing I will give Iku credit for is creating a lot of memorable – or at least scarring – imagery. That's not necessarily a good thing, but it is an accomplishment.
Screenshots:
Download:
I.K.U. 2000 (Alternative Ending)