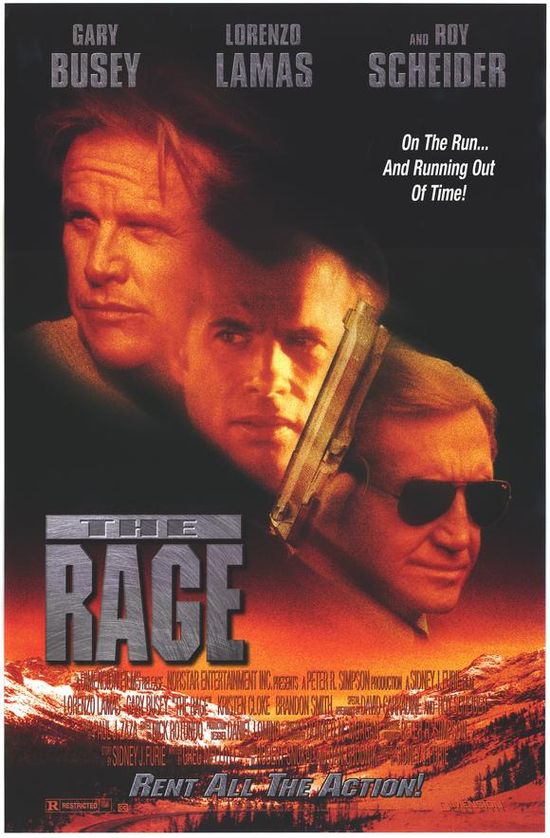 Year: 1997
Duration: 01:34:46
Directed by: Sidney J.Furie

Actors: Lorenzo Lamas, Cristen Cloke, Gary Busey

Language: English
Country: USA

Also known as: Ölni a múltért, Caçador Implacável, Confronto finale,Gnev, La risa del diablo, Les enragés, Raiva, The Rage – Im Rausch der Gewalt, Word of Honor
Description:Headed by a psychopath Daysi gang, consisting of a deadly and highly trained fighters of elite special squad, makes a series of brutal murders. Ruthless soldiers not only straightened I young girls, but also build plans for the destruction of all senior political and military officials of the state, considering that the only way to avenge his today's irrelevance.
Two agents of the secret services – Nick Travis and charming Kelly McCord have the task to neutralize the murderers.
Review: In the USA in the 80's and 90's were very popular criminal militants about all the loonies who are not afraid of any law, and even the steep police they do not fear. Since the beginning of the Millennium, such plots unfortunately there is less and less every year. Villains now very rarely are absolute thugs, with whom the main character and his lovely companion, not cope throughout the film. But, for example, in 1997, these movies came out a huge amount. Director fury (funny coincidence…) differs by the presence of «stars» and amazing special effects. But the power and fury (sorry for the pun)vested in each frame of action, are not met in each extremely expensive blockbuster.
«Rage» is extremely cruel and crazy Thriller about two agents nick and Kelly, who are struggling to catch a maniac Daysi with sick in the head comrades. Accompanied by rare thoughts of the good characters of her hard work, the role of a partner in every such case and so forth All the rest of the time devoted to just insane pursuits and shootings, really, the perfect film for trash TV channel! Phrase-stamps, a huge number of shooting deaths of innocent people and car bombings, in fact that's 100% fun B-movie. With references to the Vietnam war, mad veterans and the triumph of justice. Karate Lamas plays not so bad, compared to all the shows, and horror 2000 Well, Gary Busey (El Padrino) in «Fury» cool and crazy so that any fan of this wonderful actor should not miss this movie!
Screenshots:
Download: