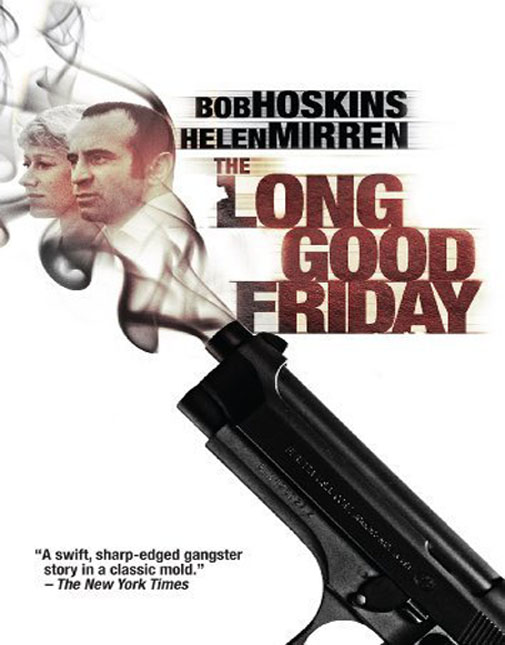 Year: 1980
Duration: 01:54:22
Directed by:  John Mackenzie
Actors:  Bob Hoskins, Helen Mirren, Dave King
Language: English | French
Country: UK
Also known as:  Racket, Gangsterkrig, Rififi am Karfreitag
Description: Crime boss Harold Shand ( Bob Hoskins ) , whose name is on a bizarre wordplay and by changing the last letter is transformed into the slang name for sharpening ( Shank ) , once again emphasizing his character returns from overseas voyage with the intention to start a civilian life of an ordinary bourgeois . But that's only intention is to quickly go down the drain because razdolbaystva subordinates vtravit organization Harold in underground war against the Irish Republican Army . And these guys are in a constant state of war , are not accustomed to sentimental , and then an explosion . Lots of explosions.
Chaotic beginning of the film , its intriguing mystery and innuendo , frenetic action is replaced with the first appearance of Harold on the screen. Its brightly emphasized by many of the details of the film exclusivity provisions in the criminal world of London, crumbles to dust before the inexorable machine bloody revenge. Kill one – you kill ten . Kill ten – tridtsateryh lose . Simple arithmetic , used by most of the rebel armies, faced with the stubbornness and bovine host tetchy criminal London , not accustomed to so just keep an offense.
Humdrum realism – is the main tool to influence the viewer. Gangsters and their women , the men of the IRA , drug dealers , arrogant Maltz , small sixes – they are so natural in their emotions , actions that willy-nilly drawn into the action . Harold avenges his people , trying to understand the causes of what is happening , IRA revenge for his people , not really trying to understand. Kos , stone .. They found each other in this wonderful Good Friday.
Dynamic action in the British kept , but it does not get bored . Violence for the sake of violence is not welcome here , but violence to achieve a goal – quite a welcome guest . Without eastern flying in all directions, blood spatter , no Hollywood heroism and suffering – all strong and brutal. With good nasyshennosti brutal action " Long Good Friday" finely balanced between typically gansterskim cinema and drama with deep meaning. Harold Shand , with all its straightforward criminal essence, is not easy . Reverse transformation of the existing legal proprietor almost a raging wolf, occurs not only at the level of actions, but on his face . Returns fangs , growling tone in his voice , it is imperative that forces people to obey – all those features that made it a criminal of the king, rising up on other people's heads. And Bob Hoskins lives this role every inch of his acting essentially every word into believing himself . With an excellent cast, represented in the film, Hoskins ease acts out the role of the violin, forcing the viewer involuntarily freeze in anticipation of new and new actions
"The Long Good Friday " , in addition to all its other benefits, has one and most important – a magnificent ending. There is no pathos. No excess reflexing . Complete the film so that the viewer from the very beginning of the film having seen it is logical ending hit and remain a pillar of salt to watch the final credits – is expensive .
Screenshots:
Download: