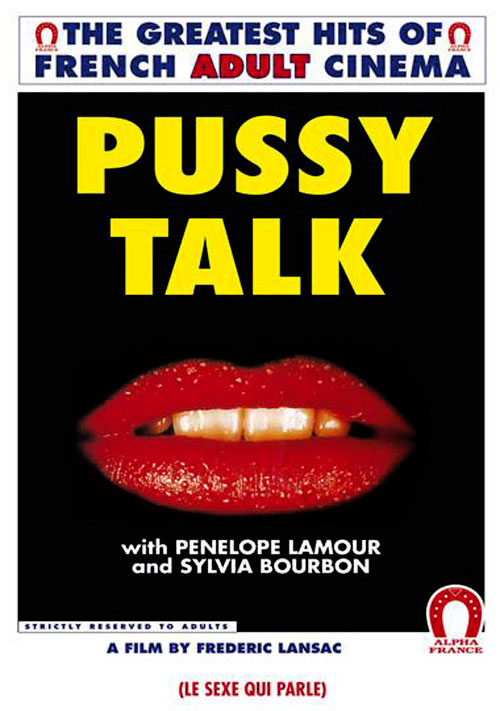 Year: 1975
Duration: 01:28:20
Directed by: Claude Mulot
Actors: Pénélope Lamour, Béatrice Harnois, Sylvia Bourdon
Language: French (English dub)
Country: France
Also known as: Le sexe qui parle, Pussy Talk, Talk USA, The Sex Who Talks, To mouni pou milaei, To sex pou milaei
Description: The French 1975 porno-chic with the talking vagina.  Starring Sylvia Bourdon, and Béatrice Harnois.  This version is uncut, running 1h28m. It is a pretty clean print, although it unfortunately has a D.O.G. of a website address (pretty unobtrusive, in the bottom left corner).  French language, no subs.  Amazing and bizarre film of psychoanalytic interest:  would make an interesting companion piece to the recent "Teeth."  The cackling old crone's voice coming out of this girl's pretty petals, is creepy and weird, to say the least.  There are some hot, natural, voluptuous seventies beauties here:  pre-silicone, pre-waxing.  There are several predictably transgressive 70s sex-scenes: such as a fuck in a confessional booth.  One of my favourites is near the beginning, where the female lead casually hikes up her dress and distractedly starts masturbating in the middle of a boring dinner party.  All in all a classic:  rarely seen in its complete and unexpurgated form (85 votes on imdb).
Beautiful young woman suffering from the fact that her pussy begins to talk in the most inappropriate and frivolous details. This goes on for so long, until she meets a man with the same problems.
Review: Joelle (Pénélope Lamour) has an unusual problem. Her pussy has developed a mind and voice of its own. It leads her into embarrassing and compromising situations, like masturbating in front of the guests at a dinner party like some XXX take on The Exorcist or going to a porn theatre clad only in a raincoat and getting it on with two of the other patrons in the men's toilets…
Joelle's husband Eric (Jean-Loup Philippe) tries to be sympathetic and understanding, calling in a psychiatrist (Ellen Coupey). But, after being compelled to fuck Eric and then Joelle by the talking sex, she then goes public about Joelle's unusual condition, leading to a media freeding frenzy…
The couple repair to Joelle's old family house in the country to hide out. Two sleazy press types visit Joelle's aunt (Sylvia Bourdon), an artist with a penchant for fucking her nude models, be they male or female, and learn her niece's likely whereabouts.
The news speculates as to the origins of Joelle's talking pussy: Could it like in a youthful trauma when as a 16-year-old (played here by Béatrice Harnois) she was molested by her stepfather – her mother bursting to shoot the man and then herself right in front of Joelle?
Perhaps….It certainly seems to be the case that the incident seemed to precipitate Joelle's emergence as a sexual being, flashbacks to her seduction of her seduction of her tennis partner – mixed doubles, anyone? – using the nose of a Pinnochio as a dildo, indulging in a three-way with another student and one of the teachers from school, and confessing all to the priest before then fucking him following in rapid succession.
The press arrive at Joelle's hideout and she is forced to flee, into the arms of her aunt. Realising that it is futile to try to avoid the press, Joelle – or rather her pussy – goes public. This, along with Eric's fucking Joelle regardless of what her cunt says, seems to effect a cure. Then, as he goes to clean up, his cock starts talking. The nightmare continues.
Screenshots:
Download: