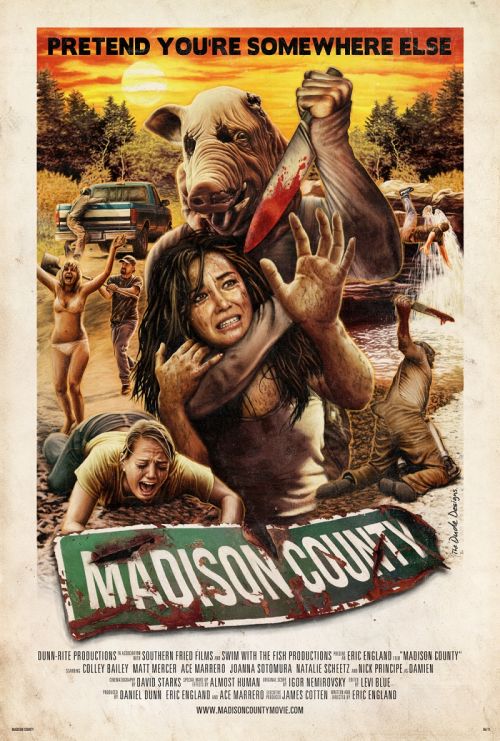 Year: 2011

Duration: 01:14:35
Directed by: Eric England
Actors: Colley Bailey, Matt Mercer, Ace Marrero
Language: English
Country: USA
Also known as: 
Description: The film "Madison County" tells about a group of students who travel to a faraway town, named Madison. They are going to interview the author of famous books, in which he talked about the horrible killings that occurred here over 20 years ago. Once there, they can't find the author's books and local residents say they have never seen him. They also deny that Damien Ewell, infamous murderer ever existed, and that the killings had never been. The more teenagers begin to dig up the history of the city, the clearer it becomes that the town is filled with the terrifying mysteries and the murder actually took place.
Review: How to make the modern horror film, but especially not strain? you need to act on the pattern, as do 90% of the authors.
The main characters must be teenagers, because the younger generation, many things didn't understand or want to understand why their death will be more interesting.
The main condition is that adolescents should be of different sexes and alternated. How to start a story? easily. Really need these adolescents somewhere send. The main thing is that this «somewhere» was in the wilderness, and the next must be forest.
Oh, seems to be good. Now for the hard part is to come up with a smooth transition between the trip and horror. Therefore, the first few times will scare in vain. Or a friend make a joke on another under the horrible music, or strange type (a trucker's grandmother, owner of a gas station) will warn children about the death that awaits them there where they're going. Now everything is fine. Add a couple of shots from the rest of the main characters and it is possible to produce the next maniac. Should not of course forget about Nude female breast and moments like «I held his breath, because the maniac is one meter away from me.»
Everything described above is no longer considered a spoiler, because this is the layout that is used in most modern horror movies. «District Madison» is strictly for this template without any liberties. The only thing that pleases, so that mask the next psychopath. Looks pretty good. And the rest – after 10 minutes of watching it becomes clear who is going to die, what happens next and what personnel will be shown. Even the ending, which is kind of like a sudden, I understood earlier than the middle. Because it's all the same layout. So much has already been filmed similar films that another of the same type film – generally causes no emotion.
«Madison County» – neither good nor bad. It is the same as a million others, and even tries something to stand out.
Screenshots:
Download: