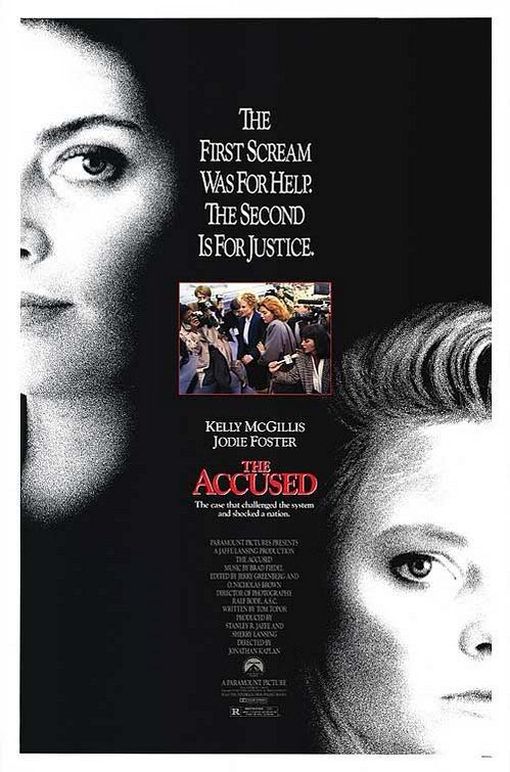 Year: 1988
Duration: 01:50:31
Directed by: Jonathan Kaplan
Actors: Kelly McGillis, Jodie Foster and Bernie Coulson
Language: English
Country: USA, Canada
Also known as: Acusados, Angeklagt, A vádlottak, Anklagad, Anklaget, Appel à la justice, De tiltalte, Les accusés, Oi katigoroumenoi, Optuzena, Os Acusados, Oskarzeni, Reckless Endangerment, Sanik, Sotto accusa, Syytetty
Description: The main actress of the film, Sarah Tobias, tells a terrible story to the prosecutor Kathryn Murphy. Sarah was cruelly raped by three men in a bar. However, criminals are sentenced only to a small term in prison. This judgment was based on the conclusion of the investigation, stating that Sarah herself accused and provoked the violence. At the request of the girl, Murphy begins to re-investigate the circumstances of this strange case. Now, the prosecutor will have to find out: what really happened in that terrible night at the bar?
Review: The psychological thriller "The Accused" Jonathan Kaplan (the director of Student Teachers and Over the Edge), who became box-office hit of 1988 and seduced numerous film awards, does not look outdated even now, 24 years after the release of the picture, as the story told in the film is shocking to the core of his realism.
The story of Sarah Tobias, subjected to gang rape in a bar and became a struggle for justice, to punish the scoundrels who escaped punishment, told the audience with a stunning realism and toughness. Directed skillfully, in Hitchcock increasing tension in the opening scene in the bar, and during the court battles, forcing the viewer to empathize with the heroine to tremble at the knees.
The film "Accused" – is terrible for his truthfulness history of the struggle for justice and calling for the girls to be extremely prudent in their actions, otherwise it might end like Sarah.
Screenshots:
Download: