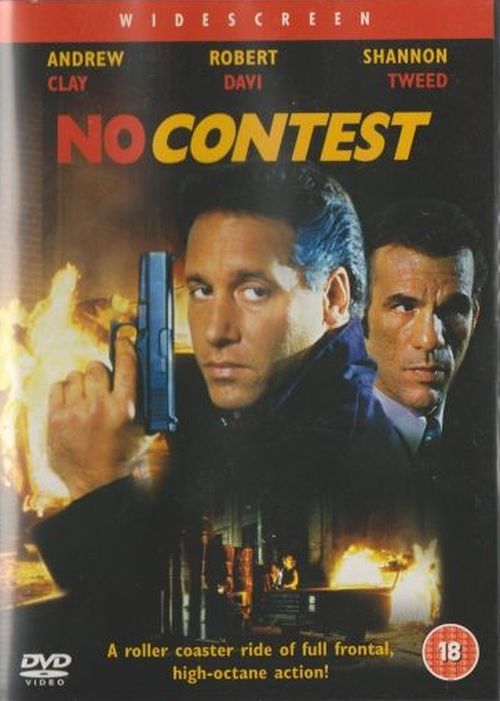 Year: 1995
Duration: 01:34:00
Directed by: Paul Lynch
Actors: Shannon Tweed, Robert Davi, Andrew Dice Clay 
Language: English
Country: USA
Also known as: Otage en péril
Description of No Contest movie: Walked yourself a beauty contest , and one gang decided to profit at the expense of this . Girls kidnapped, spectators dispersed , the building closed for electronic locks , and then put forward their demands . As usual. But there is one "but" ! Painting in itself draws from the first frame , and completely unknown actors portray on their faces so heartfelt emotions that living with them every episode . And then it becomes clear that the gang is not amateurish ( and here you are equipped with a computerized tracking system , and bracelets with explosives ) , and at the end (in my opinion this is the most interesting thing that came up with the writers ) would be weaving in a portrait of the main villain ( Bryce ) history of past.
That's it. Slip one of the gang members (" Why do we have six instead of five hostages ? ") Lets all downhill . Given to understand that the " sixth " – this is leading the competition, which at odds with the martial arts . And she selflessly trying to influence the situation. Meanwhile the girls kept in the room of the same hotel where the competition took place .
I must say that what I have described here is just the place to be . I usually do not take up my retelling . But it is almost a necessary measure . All because of a lack of information . Hopefully this will help you navigate and not sidestep this picture. At the time I gave to all the friends to see your tape where was this movie.
Ta for that , I think, to see the classics, where there is a light romantic naivete and even somewhat exotic , which is lacking in modern tapes. If we compare the roughly contemporary films and those of a number of which "out of competition ", it is like heaven compared bloated industry with clean air nature of coniferous forests .
Screenshots:
Download: