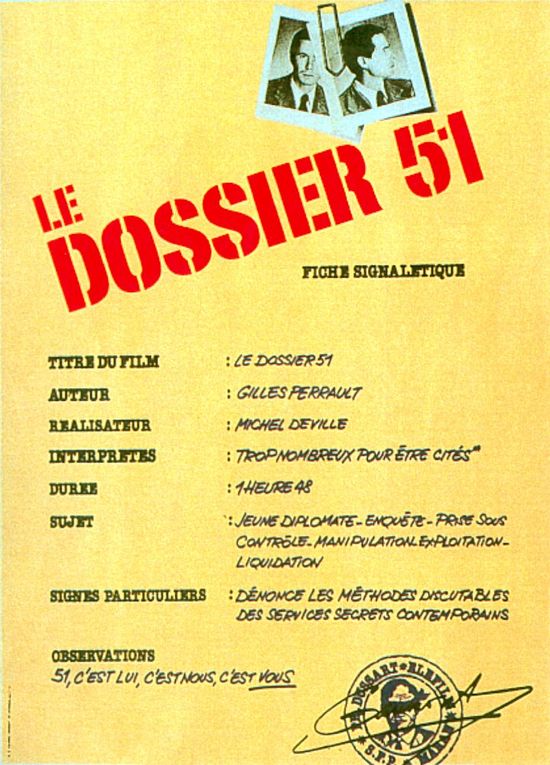 Year: 1978
Duration: 01:46:11
Directed by: Michel Deville
Actors: François Marthouret, Claude Marcault, Philippe Rouleau
Language: French (English Subs)

Country: France | West Germany

Also known as: Le dossier 51, Archivo confidencial, Pouvoir, Ohne Datenschutz
Description of le dossier film: Awesome movie – the author's perfect for arthouse arthouse rare for a formal topic of surveillance intelligence . Rare case when not come to mind , none comparable to the manner of presentation of Movie: Deville uses, and collages , and styling for a hidden camera , and the all-time at the time scale of the film shoot hand-held camera .
However, the use of such a variety of technical and stylistic tricks are not an end in itself , but only the original manner of presentation of the study of life of the individual, within this study , and the moral component. In the film, a lot of kafkianstva , satirical notes of relatively angularity and professional obsession with security services, but the main motive is serious and , given the ending, quite sad .
I believed until recently that the Deville tells the parable of the crafty man is unknowable in principle , its irreducibility to the schemes and mechanisms of control . However, instead of the failure of the operation " Hymen " ( one of many in the film) , Deville chose to build the ending so that the movie is mostly focuses on the vulnerability of any person, its dependence on society and vulnerability.
As a documentary style of presenting the material and working with actors is not intended actor finds, however, images of mother 51 th and his girlfriend Sarah actresses played fine.
Deville often used classical music in his films , and do not say that as always . Schubert's music in the " Dossier 51 " is included in the film is very tactful , a little counterpoint to the image , reviving " dryish " style story.
Screenshots:
Download: