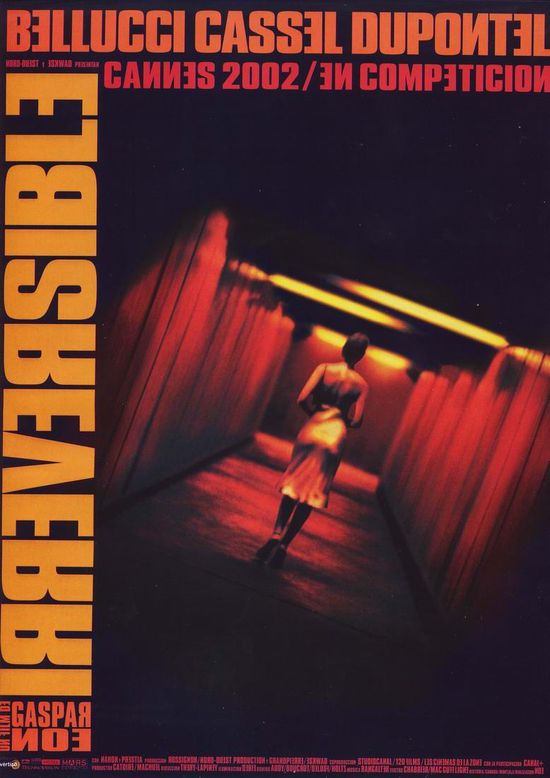 Year: 2002
Duration: 01:33:43
Directed by: Gaspar Noé
Actors: Monica Bellucci, Vincent Cassel, Albert Dupontel, Jo Prestia, Philippe Nahon
Language:French
Country: France
Also known as: Irréversible, Irreversível, Необратимость, Nepovratno, Visszafordíthatatlan
Description: Story unwinds from end to beginning. The darkness of the night, purple glow on the walls of the den, pale as a sheet, face. Hero of Vincent Cassel is tossed in a maze of stairs and passages of one gay club. The purpose – to find and kill the man he … never even seen in the eyes. But he has a good reason to hate: a stranger to death raped his girlfriend, with whom he happened to meet into a deserted urban transition … The most naturalistic rape scene in the history of cinema – 9 minutes of anal sex. Two murders, a crowd of gays and transgender people, completely naked Vensent Cassel and Monica Bellucci (Malena) …
Review: When watching the first half of the film a feeling of uselessness and futility of such frankness and appalling cruelty, but at the end, when the whole picture is made ​​up – it is clear that in another way to achieve this effect would not work. And I want to say thanks for the presentation of events in reverse.
That the director wanted to say this picture? Show the role of fatalism in the human being? Or just talk about how easy overnight break the lives and destinies of people? Or maybe it's just a provocation public Gaspar Noé (Enter the Void), the desire to create a lot of noise and impress? Probably everyone decides it myself and add to the picture of his meaning.
The film, of course, the notorious, a masterpiece of the film industry.
Screenshots:
Download: