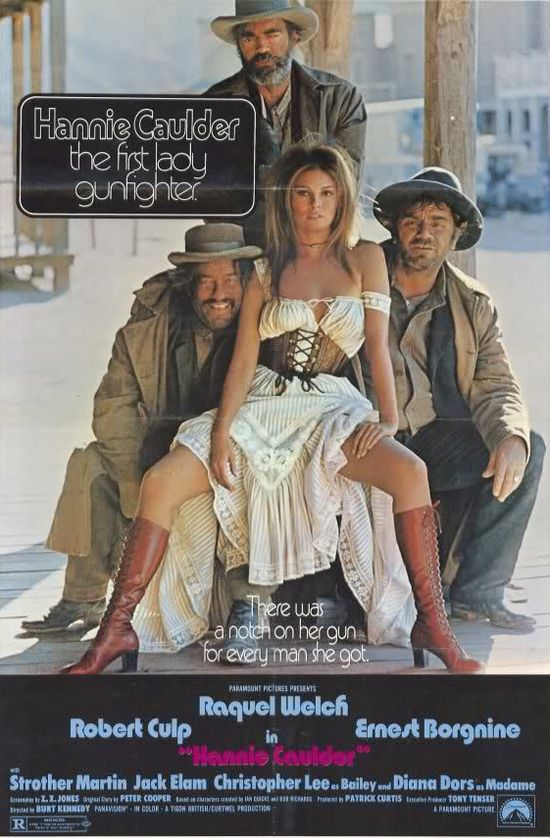 Year: 1971
Duration: 01:21:35
Directed by: Burt Kennedy
Actors: Raquel Welch, Robert Culp, Ernest Borgnine, Christopher Lee
Language: English
Country: UK

Also known as: Ana Caulder, Un colt pour trois salopards, In einem Sattel mit dem Tod
Description: Brothers Clemens, known criminals broke into the ranch, where lived Hannie Caulder and her husband. Her husband was killed, the house was burned, and Hannie was brutally raped. She wants revenge and turned to the shooter, that he had taught her to use a gun …
Review: On the wave of success of "spaghetti westerns" its their interpretation suggested filmmakers from Britain. Hannie Caulder movie about merit. Unlike films of Sergio Leone before us an ordinary story about revenge.
The woman Hannie Caulder killed her husband and raped her three villains. She meets and learns ganfayterom his skill and avenges three bastards. Britain looked to sharpen topic, they do not hesitate just show what services Hannah Calder offers as payment for their education.
The film is interesting in that Raquel Welch tries it sound like Clint Eastwood: like a poncho (under which sometimes do not), similar haughty posture and gait line, a minimum of words and deadpan look.

Screenshots:
Download: