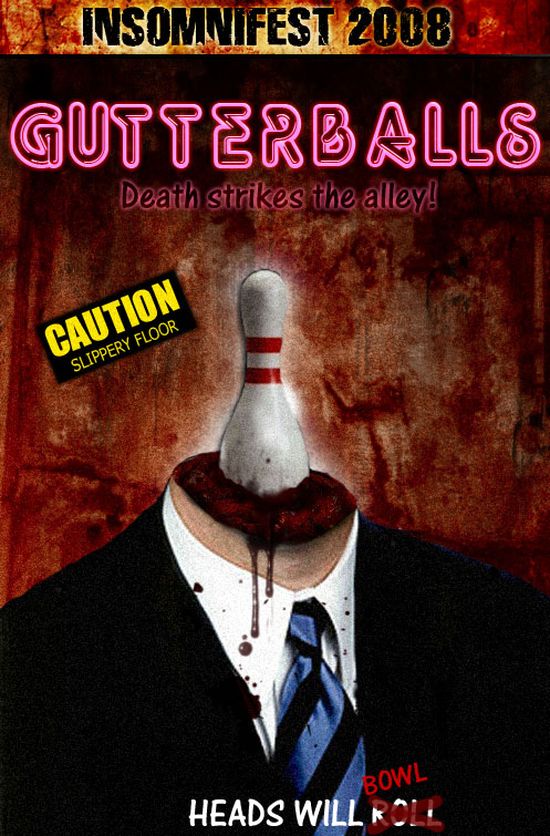 Year: 2008
Duration: 01:35:52
Directed by: Ryan Nicholson
Actors: Alastair Gamble, Mihola Terzic, Nathan Witte, Wade Gibb, Candice Lewald
Language: English
Country: Canada

Also known as: 
Description: During the disco in a popular bowling club happens a sadistic gang rape act followed by murder. One by one the rapists of two teams meet their hideous and gruesome death in the face of the killer in a mask and gloves for bowling. By morning, the entire club was repainted in a bloody color.

Review: A very cool slasher film by Ryan Nicholson(Torched and Live Feed), set in a bowling alley. There are a whole bunch of assholes all around. And one very hot chick that shows everything. There are 2 groups that get into a fight, and the hot chick is raped and violated with a bowling pin for revenge. She then comes back the next night to kill everyone who raped her, and her friends that left her there. The best kill is the double 69 chocking to death. There is also a tranny that is tortured, so something for the whole family.
This is really good Canadian exploitation…if you enjoyed Hobo with a Shotgun, I think this film is an even stronger throwback.  Feels completely like it was made in the '80s.  I've spoken to the director and he's really cool.  His newest film is going to be called "Transmitters" and he warned me that he may get arrested for it!  Check this stuff out.
Screenshots:
Download: