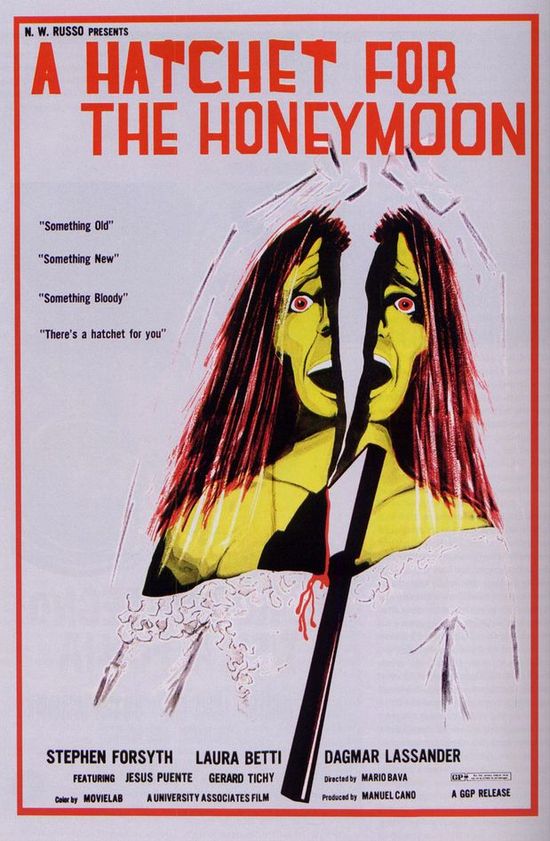 Year: 1970
Duration: 01:24:41
Directed by:  Mario Bava
Actors: Stephen Forsyth, Dagmar Lassander, Laura Betti
Language: Italy / Spain
Country: Italian
Also known as:  Il rosso segno della follia, Un hacha para la luna de miel,  Kalman hääyö, La baie sanglante 2, Une hache pour la lune de miel, Blood Brides, O sadistis, Hentesbárd, Hatchet for the Honeymoon, Red Wedding Night,An Axe for the Honeymoon
Description: Mario Bava – one more fruit. He began operator then if accidentally switched to directing , and profits from his films grew until the '70s, when it all went crashing down. However, the meaningfulness or artistic expressiveness , or at least some value not " suffer " even his early films . Bava honestly admitted that removed only " top seller ." Later this glorious tradition continued by his son , Lamberto , nasnimat pretty much completely stupid and tasteless horror . Yes, Bava Sr. filmed for money. So what? Herschel Gordon Lewis also shot ( and removes ) for the money, but because his films do not fade like violets at a service station . On the contrary, they are mad , emotional and ironic. And that Bava ?
A Bava took "Psycho" Hitchcock slipped him Lt. Columbo , and got some aesthetic colors, but devoid of life , imagination, and art in general as such. He is an experienced operator uses zumami with such fury that he himself "king of zoom " Jess Franco nervously smoking in aside . His actors speak on camera memorized phrases and platitudes unprecedented zashtampovannosti , frowns and rocks. His terrible actress one another , play as seriously as if it were the culmination of "Hamlet ." His narration goes on to explain anything that is not finished chewing the real heroes , and kills the last refuge in this heartless hand-made article – a flight of fancy viewer.
Of course , it all looks ridiculous and without a moment's scary. Now this can not scare even the baby – on the contrary, from such tyagomotina he just forgotten dream. Of course, all scenarios " feints ears" calculated by us in the first minutes of the film, and those that became a surprise for us , otherwise as " sewn mare's tail" and not oharakterizuesh . Banal and illogical actions of the heroes tickle your armpit and giggling nervously viewer starts , anticipating every step , every cliched word, every new folly.
Ennio Morricone rewrites his immortal melody of " Once in America " and sells it to the right and left under a variety of pseudonyms. But I can almost understand . How can you seriously take up writing music for this film ? ? You just try to make a brief synopsis of the tape after watching – what nonsense , my God, what nonsense .
I would be happy , be in this film the visual part , able to distract us from misery , soulless and boring happening on the screen . But Mario Bava – not even Dario Argento , whose visualization and remained so ever end in itself. Operator " delights " and the color palette can not pull half-hour horror story for the Italian heartland from the abyss of insanity .
And what subsequently took Bava ? " Wild Dogs ", where he spoiled his cardboard staging gorgeous scenic basis ? Or "Schock" of 1977, which would be ashamed to release even enthusiasts from Troma ? Although , as I mentioned , and the earlier films of Mario Bava's so gravely , naive , stupid , heartless and childish that it's tempting to subscribe to it pretty sharp commentary on their own creativity.

Screenshots:
Download: