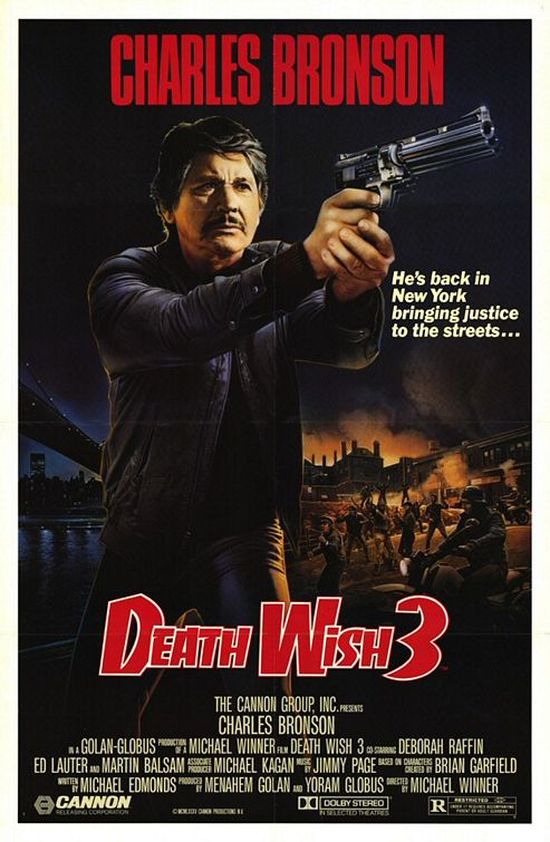 Year: 1985
Duration: 01:30:19
Directed by: Michael Winner
Actors: Charles Bronson, Deborah Raffin, Ed Lauter
Language: English
Country: USA
Also known as: Zyczenie smierci 3, Våldets fiende 3, Väkivallan vihollinen 3, Smrtonosna zelja 3, Se nomimi amyna, Prání smrti 3, O Justiceiro de Nova Iorque, Le justicier de New York, Il giustiziere della notte 3, En mand ser rødt 3, El justiciero de la noche, El justicier de la nit, Desejo de Matar 3, Death Wish 3 – Die Rächer von New York, Bosszúvágy III., El vengador anónimo 3
Description: Young gang of bastards destroyed an apartment and beaten to death one old man who dared to resist them. His friend Paul Kersey came just in time to catch the dying last breath. Police arrested him on charges of murder. In camera Paul came into conflict with the local authority, and from now on is his mortal enemy. Police recognizes in Paul a famous New York "Night Avenger", and the inspector, letting him free asks for help in restoring order in the quarter. Floor apartment is deceased friend and starts a war with the gang …
'Death Wish 3' was the third and final Death Wish instalment to be directed by Michael Winner (pictured on set, above). It's a fantastically crummy enterprise and one which it's star was reportedly deeply unhappy with. Winner and Bronson never collaborated cinematically ever again, so I'm guessing that Charlie genuinely WAS truly madly deeply unhappy with it.
In retrospect Bronson's misgivings seem, to me at least, somewhat misplaced. For all it's silliness the movie is wonderfully entertaining in a way that the previous two offerings aren't. Gone is the pretense of social comment peddled by the original and missing is the clammily lecherous misogyny of the dark second (sorry, guys). What we have here is a flat-out action exploitation flick set in a completely cartoon universe, which, for a film so filled with violence and murder, is delightfully "light" in tone.
'Death Wish 3' has long been thought of as simply an epic misfire and one of the best "bad" films (or worst "good" films) ever made, but I refuse to believe that parody was not somewhere in Winner's mind when he made it. There are too many examples of gleeful, self-mocking ridiculousness to dismiss the work as merely incompetent (although I admit to being fairly generous in my appraisal of Winner's later work due to my enthusiasm for his artful earlier stuff). Maybe he should have told his leading man about the new, humorous intent, though; Bronson does seem rather confused and uncomfortable throughout, but looks remarkably cool for an old guy in a stylish collection of svelte-cut jeans, jumpers and leather blousons (and kudos to his hairstylist).
Review: Definitely the best representative of the genre …
Paul Kersey, avenging his murderers, the family goes to his native suburb to deal with youth gangs and at least as – that change the criminal situation in the area.
Michael Winner of the trilogy is probably the best film. Adventure 80 – x has simple storyline, excellent performances by the cast and well-posed action – scenes. This film belongs to the category of those that always want to see.
"Death Wish" – a real standard of militants and a wonderful film that is not who will not leave anyone indifferent. It is a pity that razuchils now take such a wonderful movie. Masterpiece. What else to say? I recommend to all.
Review #2: Being extremely successful in commercial terms sequel of the famous thriller "Death Wish", entirely made producers realize that you need to strike while the iron is not on the spot, and that's why the third film of the same from director Michael Winner, this time came from much less break than the second part. Money for her studio bosses wisely allocated more than two predecessors, and the general outline of scenario was changed considerably.
I must say that the story of this franchise have finally dulled, and yes, dulled incredibly strong. Let's start with the fact that the film is entirely lost as a thriller elements, and all the inherent drama genre. Now we have a completely stupid, illogical, unrealistic, and is a traditional action category "B" of the 80th, with all its clichés: here and electronic music, and having a caricature, hamming gopas, and the obligatory cool main character, who in the best tradition "Commando" is one shot and not taking aim, to make a few dozen armed villains.
But if in the "commandos" whole massacre took place beautifully and realistically, in this film, everything is just unnatural. Get at least have an extremely elderly Bronson, one hit kills several beefy gopas in a prison cell. Just seeing how something like that gets up quite frail old man, watching in itself is enough napryazhno. No, I understand that Bronson, peace be upon him a real man, but he was cool in the sixties and seventies, and in the picture of 85-year looks tired of living and playing in the movie, old man.
Of course, I was extremely pleased with the fact that the story in this film is very different from the plot of the previous two, or copy, the overall structure of the screenplay, as opposed to a sequel. Although, here, as before, there is the motivation of revenge for the murdered loved one. Really, it was impossible to do without it? Could just send Bronson cut gopas just because he is a case of "sucked" because the ending of the first, the original film, this rectilinear generators said. The main villain is generally something with something. I have the feeling that this character ran out of some of the films of Mel Brooks' because, like his facial expressions and dialogues spoken to them, easily able to push on the comedy front, even Lord Helmet "Cosmic Egg." And so what does he awaits death! This is a must see with your own eyes, as it was actually one of the funniest scenes I've ever seen. Now I really understand where legs grow in "Itchy & Scratchy Show."
As a result, the impression of the third part of the famous franchise, I got a very ambiguous. Half of me, half a huge lover of movies, 70's and 80's, makes me put him FATTY top ten, because everything inherent in that era, there is abundant. Yes, here's the problem: my other half, half man endowed with intellect and a man who did not like very much when out of him trying to make a complete idiot, treacherously makes a hand reaching out for otmetochki in edinichku. And in order to hush up this conflict, I'm going to compromise.
Screenshots:
Download: