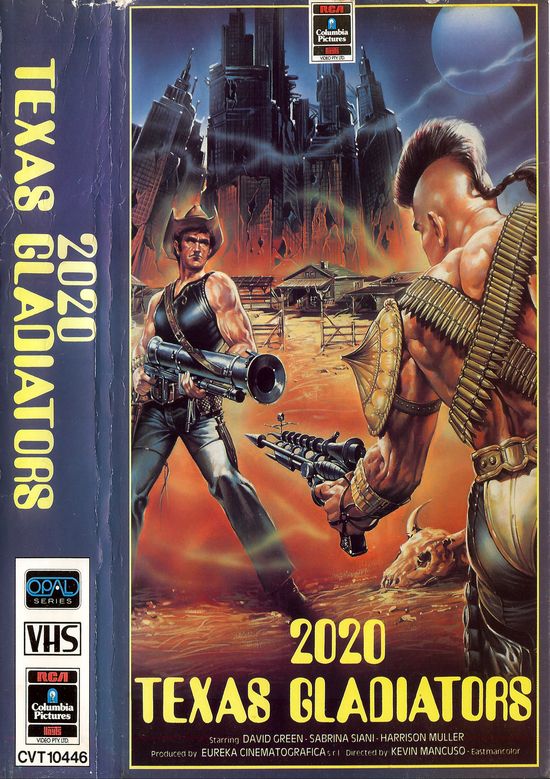 Year: 1984
Duration: 01:30:25
Directed by:  Joe D'Amato
Actors: Al Cliver, Harrison Muller Jr., Daniel Stephen, Peter Hooten
Language: English
Country: Italy

Also known as: Anno 2020 – I gladiatori del futuro, Texas 2000, One Eye Force, 2020 Freedom Fighters
Description:
Filmography Arestida Massachezi has about 198 films and of course among them was a representative , then so popular post – apocalyptic genre. " 2020 Texas Gladiators " can be safely reckon not only the masterpieces of post – apocalyptic thriller , because for a low-budget film tape is the level of " 2001 : A Space Odyssey " for example.
Future world portrayed in this film only cruel : first, we already see a gang busting church , rough rape and crucifixion … Then a fierce fight : throats cut in all its glory , juicy crunch fractured spine, punctured eyes , limbs hacked off and is shot mercilessly gang of thugs . Exactly director begins this dark and brutal picture of the post – apocalyptic world .
In 2020 the world was dead. A handful of people trying to survive in a civilized manner , it is possible to rebuild the plant. Among them were five who defended and helped others to survive . Once one of them " spit " at all , joining a gang of barbarians under the command of General mad .
Today this film , unfortunately, is almost forgotten and in their time, enjoyed the attention . Almost all movies on a post – apocalyptic theme , taken in Italy raskritikovyvalis for imitating American greatest hits like "Mad Max" but most of them bear any resemblance to American films had. I dare say that " 2020 Texas Gladiators " much higher "Mad Max" in all ways . The scene of battles and skirmishes delivered so beautiful visually , which sometimes can not believe that the movie 1982. Acting on a very high level, which is especially looks Al Cliver and Sabrina Siani . Director , unfortunately, does not show the audience shattered world , but merely its moral consequences .
" 2020 Texas Gladiators " refers to a category of films that you can watch more than once , including all categories of viewers. If you think that masterpieces Arestida Massachezi is only a " cannibalism " and " Beyond the Darkness" , you know exactly what this joint work with George Ismenio have to satisfy all fans and just evrokulta competently delivered , visually beautiful films.
Do Arestida Massachezi have another post – apocalyptic film – «Endgame – Bronx lotta finale», very hopefully that he will be as worthy as possible so one of the best films of the Italian , but sorry is late classic – Arestida Massachezi .
Screenshots:
Download: