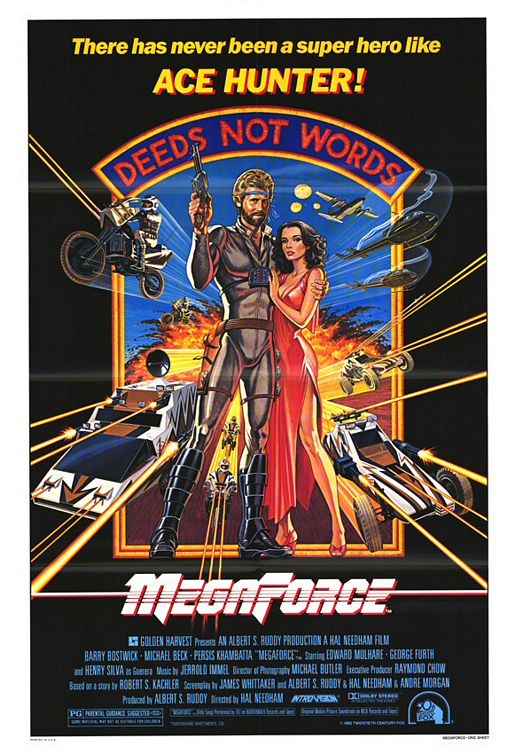 Year: 1982
Duration: 01:35:35
Directed by:  Hal Needham

Actors: Barry Bostwick, Michael Beck, Persis Khambatta

Language: English
Country: USA | Hong Kong

Also known as :O Esquadrão do Terror, Megaforce – aavikkosoturit, Komandos exontoseos, Supertroepen
Description of Megaforce movie: Ultramodern battle group led by Ace Hunter is struggling with a dictatorial regime. Tanks, guns, snakes, motorcycles, fine patriot – all mixed in one heap undue pathos.
Review:  You know, if in the opening credits would be the words " based on such and such a comic book ," I would have understood and forgiven . In the early '80s comics were just starting to crawl out on the big screen , and if you were really epic tape like "Superman" , then there were bright colorful primitive – like " Flash Gordon " or adaptations of comics Filipinnskih " Darna ". And " Megaforce " could be attributed to the second category , but no – the basis of the original tape scenario in production invested money infamous Golden Harvest, and the director – famous Hal Needham .
Needham started out as a stuntman , then retrained in the directors . He cheerfully began removing picture with Burt Reynolds ' Smokey and the Bandit "and" Hooper . " Then , releasing a couple of movies , Needham became the go downhill , removing several films each other worse and grab four nominations at the Razzie . This led to the fact that a few years pokumekali television director Hal left the profession.
First signs were just the same , " Megaforce " – through goofy tape, which could be mistaken for an army agitation if it were not so implausible . It is about caricatured evil general who wants to grab all . He is opposed by a secret group led by Ace Hunter, super-mega warrior . All this will result in a bunch of unreasonably loud , desperately implausible and incredibly inspirational fights .
This is the ultra-modern detachment goes on painted motorcycles with rocket launchers and at least painted armored vehicles , which can be seen from a mile away and that would have looked out of place , if only participated in some stunt shows. Theirs leader – Ace Hunter – smiling, bearded and wearing on his head , uh, blue bandage ( vykusi , Rambo !) . Sometimes it helps to patriotic and beautiful Persis Khambatta , who is much more attractive than the " Nighthawks " with Stallone .
Screenshots:
Download: