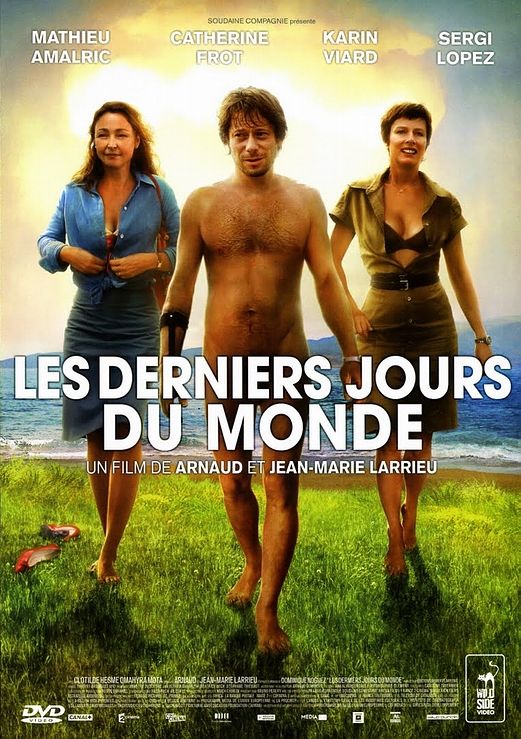 Year: 2009
Duration: 02:08:36
Directed by: Arnaud Larrieu, Jean-Marie Larrieu
Actors: Mathieu Amalric, Catherine Frot, Karin Viard 
Language:  French (English Subs)
Country:  France | Spain
Also known as: Les derniers jours du monde, Последний романтик планеты Земля, Els últims dies del món, Happy End, Los últimos días del mundo, Oi teleftaies meres tou kosmou
Description:Just watched Happy End movie
What is good and what is bad? Is firmly that good today? What is bad today, will it be good tomorrow? That bad yesterday, always a good day? Which is natural, it is not ugly?
The last days of the world and no romance. This is the essence and the title of the film, the machinations of distributors have become such a trivial, even making jokes on their anal logic reinvention of movie titles becoming vulgar. Understand yourself properly before you start to view, no romance in the film is not, and never even thought about. If you decide to look at this picture, drop the hypocrisy, this is not a movie – call it sweet immediacy, carried to the extreme edge of the extremes. Sorry for the triple tautology, but other words for this film, I find not. The picture is not put questions in order to give an answer later this chronology, though dated and filed in the form of a diary.
The main character, Robinson, endeavor to find a woman who is at once destroyed his peace and health. The strength of her appeal is not in a huge heavenly love, and in the freedom that she unwittingly taught her lover. Cat who walks by himself, and with it he becomes the hero of the March Cat. It floats on the waves of the apocalypse, and he is offered a variety of women, foreign women, abandoned women. Including abandoned by him. Selecting them, Robinson sails on without hesitation, no doubt, not looking at the crumbling world, reveling in their newfound freedom.
And yet the world is the last war. She was not assigned a serial number, no report to his cheerful voice on the opening of a new front, is not even clear who untied her, and who is on which side is fighting. It may be that all war against all of this a lot and often talked over a cup of coffee in a cozy cafe, discussed on the Internet, but did not believe, as long as it became crystal clear that the man is standing with a placard "Apocalypse Now" fit compare notes.
What was bad yesterday, well today, and that will be good and bad in the last days of the world?
Just try to watch the film Les derniers jours du monde without judging and horror. Go to view, ironically, relax in your cozy couch, the last days of the world we still have not come. Take to the film itself, it does not carry the heavy baggage charge of morality. If you are not ready, all of the above, do not watch this film, or at least do not condemn him afterwards, guided his complexes.
Screenshots:
Download: