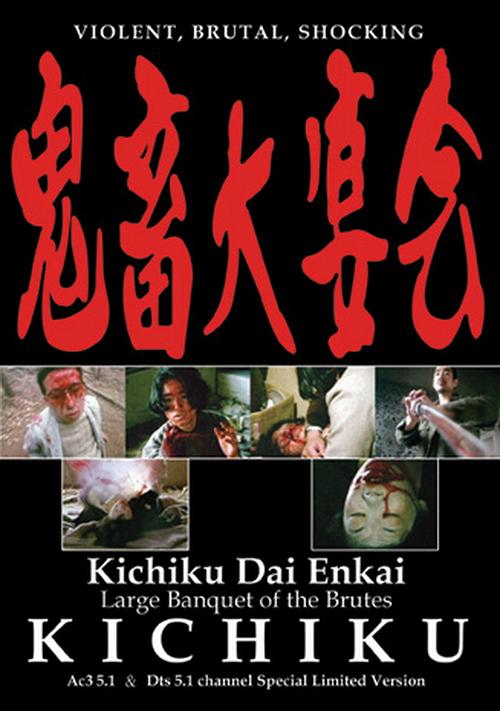 Year: 1997
Duration: 01:46:59
Directed by: Kazuyoshi Kumakiri
Actors: Shigeru Bokuda, Sumiko Mikami, Shunsuke Sawada
Language: Japanese
Country: JAPAN
Also known as: Kichiku dai enkai, Kichiku, Banquet of the Beasts
Description: 
Ambitous, dark student art/gore movie that chronicles the power struggle within a minor enclave of youthful lefty activists. When the frontrunner of the team goes to jail, his vicious fan takes control of the gang using her sex and strongarming the other key users of the group by using sadistic physical violence on the bad eggs.
Kichiku Dai Enkai is a very bleak depiction of human beings as inhuman beasts whose lifestyles are consumed with no enthusiasm for anything but cruelty and power. It's not a very enjoyable film but it does deliver in the gritty violence/gore division.
Brief description of the plot, probably does not explain why the film " Kichiku: Banquet of the Beasts" in references often passes on the horror genre . But it is necessary to know that stylistically tape solved in the key, close-up, for example, another Japanese film – " Beware! Jack the Ripper ! " . This uncompromisingly cruel spectacle , not without at the same time certain specific poetry. " Kichiku" can be viewed as a bloody Guignol of crazed teenagers , and you can – as a warning to all are not stupid , " Rebel Without a Cause ", who risk their own skin to experience the historical truth – "revolution devours its own children." Or rather the revolutionaries themselves gladly devour each other . " Kichiku- Feral feast " – a debut of a young Japanese director Kazuyoshi Kumakiri . At the time of filming, he was only about twenty-five years. It is interesting that in the future his work (and his filmography – about a dozen films) Kumakiri to horror or thriller never returned , preferring the quieter drama.
Screenshots:
Download: