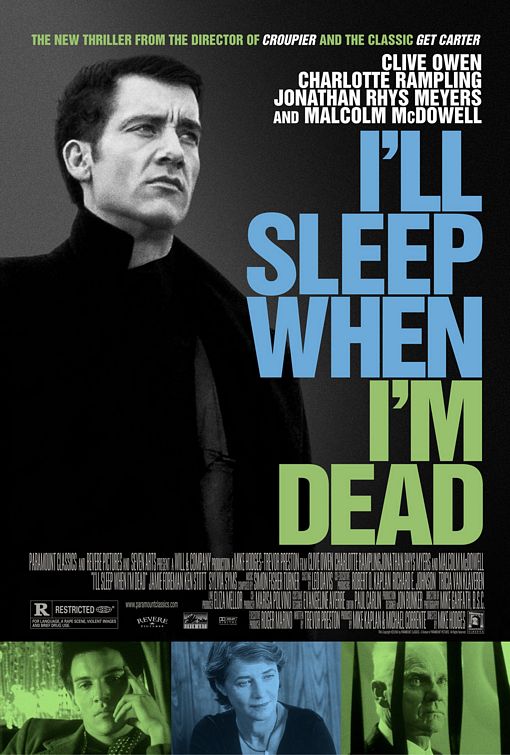 Year: 2003

Duration: 01:38:16
Directed by: Mike Hodges
Actors: Clive Owen, Malcolm McDowell and Jonathan Rhys Meyers
Language: English
Country: USA
Also known as: Űzött vad, Dead Simple, Fuera de control, Só a Morte me Pode Parar, Seule la mort peut m'arrêter, Tha koimitho otan pethano
Description: Story of revenge and justice, a bit about love, but mostly about how to survive in this tough world. The film begins with the story of an ordinary boy in London, Dave Graham. Dave lives with petty thefts and saling drugs. He successfully combines work and pleasure, visiting the secular parties, selling cocaine to rich ladies and certainly not denying himself the pleasure to continue the fun at home with those ladies. But not everyone likes the arrogant behavior of the younger Graham, and the morning after one of these parties he is captured and raped. The shock of the incident breaks psyche of Dave and he commits suicide by slitting his throat in a cold bath.
Review: The plot of "I'll Sleep When I'm Dead" is not original. He brightened only by the fact that the protagonist of revenge for his brother, not a sister. But the film is valuable not plot and atmosphere. Atmosphere of a rainy night to the sounds of blues unobtrusive. It must be in the mood to watch, when you want something slow, sad and dark, and not drive and turbulent emotions.
Very pleased with the sound. It is sound. rather than musical. The film is filled with the sounds of life, they do not get muffled music. Only occasionally, as the natural sounds of the night blues.
Screenshots:
Download: