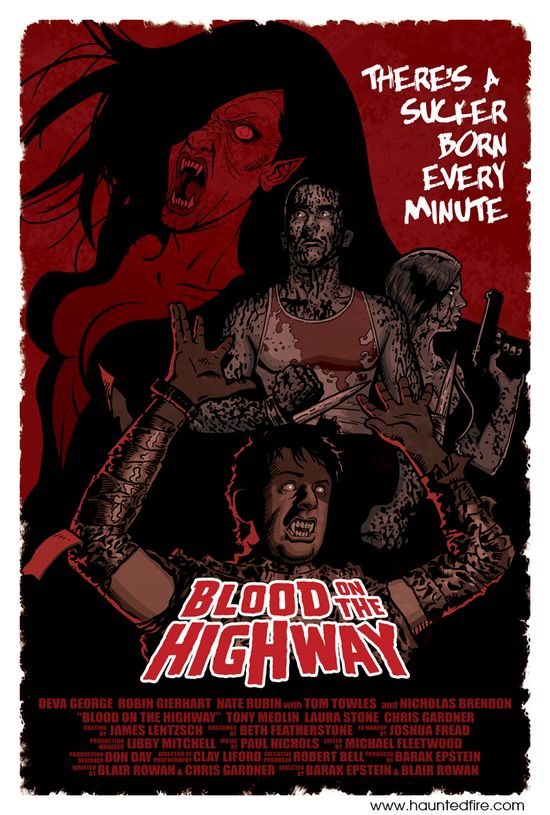 Year: 2008

Duration: 01:27:28
Directed by: Barak Epstein, Blair Rowan
Actors: Deva George, Robin Gierhart, Nate Rubin
Language: English
Country: USA
Also known as: Legion der Vampire
Description: This is a hot sticky texan vampire movie, there is no other way to describe it. It doesnt try to be somthing else, you dont have a movie apeing somthing that worked before it unsucessfully, Blood on the Highway is what it is, and thats fun. Blood on the Highway is stuck somewhere between low budget sleeze and a strong indy feature and it seems to relish in it's status off the radar, a fact it uses to do whatever it wants. I really enjoyed not guessing what the fuck was going to happen for a change.
3 twenty somthings run into a town overrun with vampires. If they can survive the night they may live to fight another day but first they have to get over their own character flaws like being a cock tease, a huge (but hilarious) asshole, and being a bung-hole. Laugh and cry as they fight there way through an insane cast of human and vampire characters and discover why Wal-mart may be the scariest monster of them all…
Its a fun little vampire flick with surprise appearances by Tom Towels and Nick Brendon.
Screenshots:
Download: