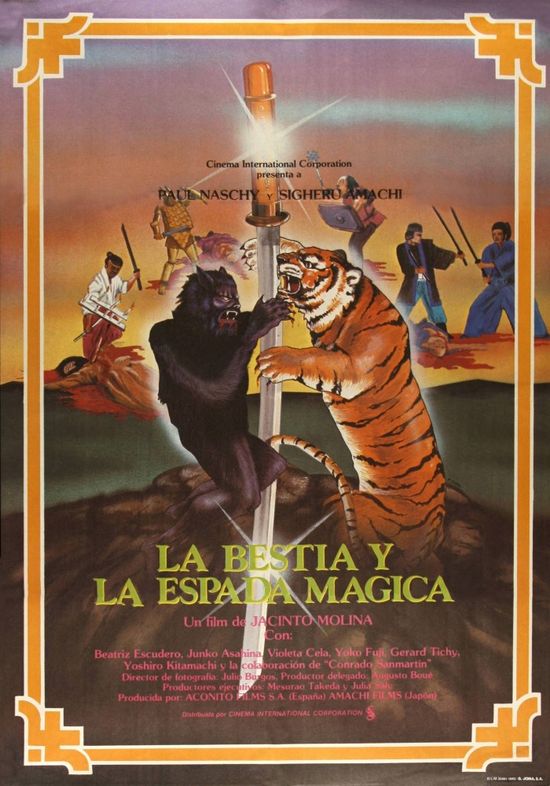 Year: 1983
Duration: 01:47:45
Directed by: Paul Naschy
Actors: Paul Naschy, Shigeru Amachi, Beatriz Escudero
Language: Japanese/spanish
Country: SPAIN/JAPAN
Also known as: La bestia y la espada mágica, The Beast and the Magic Sword, The Werewolf and the Magic Sword, La bestia y los samurais, To teras kai o samurai, Ohkami-otoko to samurai
Description: Not the best example of an infinite saga about the adventures of unkillable werewolf Waldemar Daninski Neshi performed by Paul , who spoke here as well as a director and writer . At this time, fate brought the unfortunate werewolf in distant Japan , where he seeks a cure from his " volkolachestva " finding shelter at one of the local samurai. He brought with him two beauties who fled together with Waldemar persecution of the Inquisition . How – we do not show …
Key scene painting unfolding in Japan is because the film was shot on the Japanese money (of course, if you believe the information gained from -net ) . And somehow it turned out that Paul himself Neshi frame of mostly paintings constantly falls . That is, his character periodically runs through the woods in a fur suit and mask and attacks on Japanese casualties (mostly female ), but the event is not revolve around him. At the forefront of local samurai showdown around the shogun , and the Daninski their problems with lycanthropy and women (here it still has managed to fall in love with the daughter of his noble sheltered Kiana ) involved in all of this in so far as the ninja … That he is attacked , it ugorazdilo bite someone is wrong .
But the viewer sees sufficient samurai fights, manifestations of samurai honor and the like … But all this , of course, a few exaggerated characteristic of genre cinema as unpretentious . Kurosawa not one word.
For the mid-'70s movie would have looked quite adequately , but for 80 it already obsolete with its conventional characters, make-up a-la children's party tricks and unpretentious . Low-budget tale fantasy in exotic surroundings , which can only advise you to fans of Paul Neshi , which exists in the world quite a lot, but here in our country to meet these do not ever . However, given that the hero Neshi this time is not the focus of a significant portion of screen time , even for the hottest his fans «La Bestia y la espada mágica» is a collection value except that .
Review:
Screenshots:
Download: