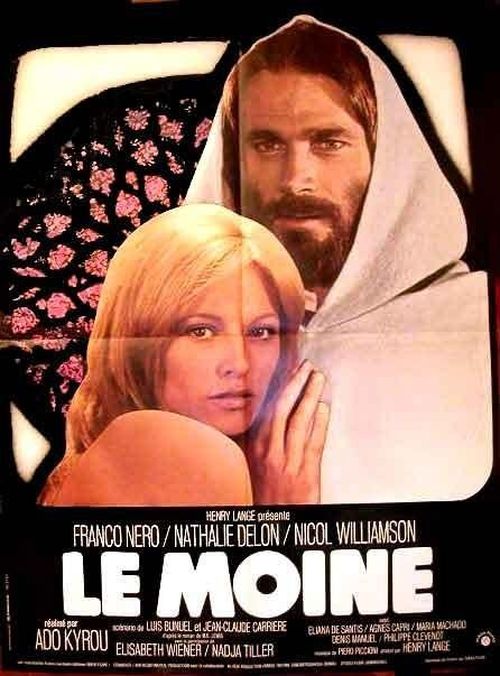 Year: 1972
Duration: 01:29:31
Directed by: Adonis Kyrou
Actors: Franco Nero, Nathalie Delon, Nicol Williamson, Nadja Tiller, Eliana De Santis
Language: English
Country: France
Also known as: Il monaco, Le moine, Munkki ja paholainen, Pirun vallassa
Description: The protagonist Ambrosio (Franco Nero from Sweet Country and Hitch Hike) in childhood was deprived of parents. He ended up in the hands of a relative, whose only desire was not to hear about the boy and for this purpose he gave him to his friend, the former head of the Capuchins. Abbe used all his efforts to convince the boy that behind walls of the monastery there is no happiness.
And he fully succeeded. Ambrosio was the deepest desire of vows in the Order of St.. Francis. His mentors have successfully etched into Ambrosio the virtues and altruism, which are poorly suited for the monastery. While monks eradicated his virtue and tamed his emotions, and they contributed to the prosperity of sins …
Review: Adonis Kyrou was very influental filmcritic and later director. He wrote famouse text "Surrealisme au Cinema". His last film "Le Moine" based on classic Gothic novel "The Monk" by Matthew Gregory Lewis, and coscripted by Luis Buñuel and Jean-Claude Carrière. Franco Nero plays Ambrosio, a monk who is sexually tempted by a beautiful young girl Mathilde in monk's robes. But Mathilde is an emissary of the Devil, and Ambrosio's soul in a great danger.
Screenshots:
Download: