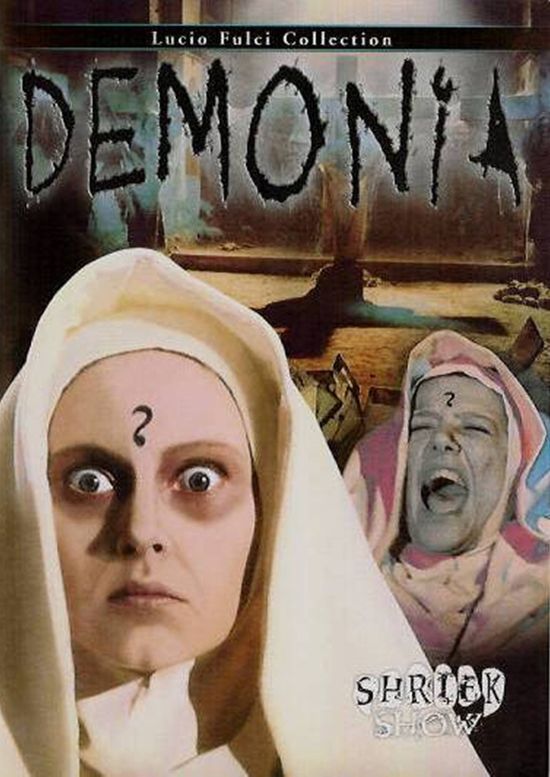 Year: 1990
Duration: 01:25:04
Directed by: Lucio Fulci
Actors: Brett Halsey, Meg Register, Lino Salemme, Christina Englehardt
Language: Italian (English subs)

Country: Italy

Also known as: Liza
Description of Demonia film: Fulci's supernatural nunsploitation flick makes little sense but I still enjoy it. It's often unjustly referred to as Fulci's worst movie. Basically, it's about the spirit of crucified nuns who haunt (and murder) a group of archaeologists from the University of Toronto when their tomb is disturbed. It's filmed in soft-focus, which adds to the dream-like quality of the story. Although the characters were interchangeable and the movie lacked a real conclusion, I still had a good time. The murders are in typical Fulci (Murder Rock and Don't Torture a Duckling) style with crazy cat attacks, tongue impalements, harpoon mayhem, decapitations and much much more. A sequence in a butcher shop freezer was well executed and the "human wishbone" scene near the end was the movie's incredible highlight. Fulci fans need to give this one a second look.

The film "Demonia" in 1990 was one of the last works of the famous Italian horror classic Lucio Fulci. Shot on a small budget and in the absence of well-known actors, the film has continued the tradition of mystical horror on the subject of witches, which became one of the most prominent in the Italian horror. However, this picture suffers from a kind of archaic, because tape is known only to the true fans of the genre. The plot in the film interesting and stressful, but typical of Fulci cruelty in this tape is not. Operator Louis Chikkareze skillfully creates suspense in the film, almost avoiding overt display of violence.
Actors are generally good, but the level of masterpiece of acting, too, do not show.
Giovanni Cristiani wrote for the film soundtrack is great and bright, creating a picture of the gloomy atmosphere.
Screenshots:
Download: