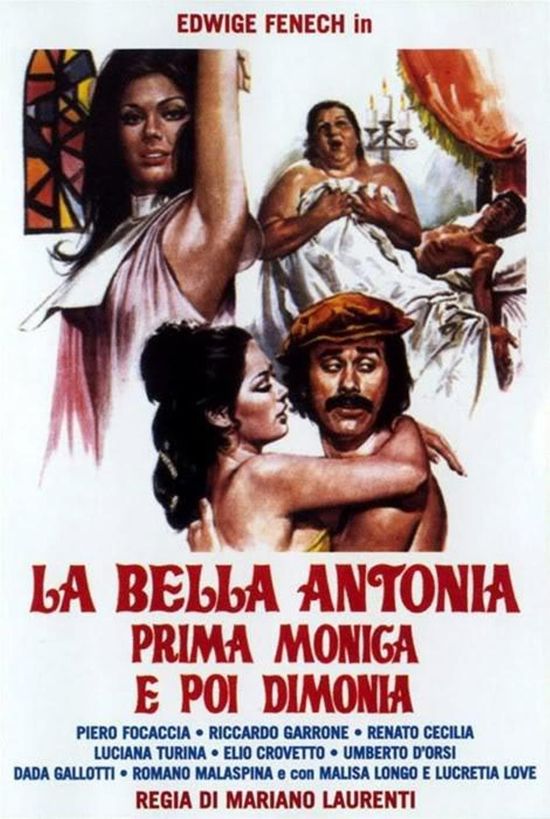 Year:  1972
Duration:  1:18:37
Directed by:  Mariano Laurenti
Actors:  Edwige Fenech, Piero Focaccia, Riccardo Garrone
Language:  Italian
Country:  Italy
Also known as:  La bella Antonia, prima Monica e poi Dimonia , Y Jaimito que no es tonto , Naughty Nun , Wehe, wenn die Lust uns packt
Description:
Antonia's father, unable to quell his daughter's growing infatuation with men, he sends her to a monastery to protect her virtue from being tarnished by her many male suitors.
La Bella Antonia, prima Monica e poi Dimonia is medieval period comedy that was directed by Mariano Laurenti who also worked with Edwige Fenech on another medieval period comedy titled Ubalda, All Naked and Warm. Visually La Bella Antonia, prima Monica e poi Dimonia benefits from Tino Santoni's picturesque cinematography which features a few inspired shots. Tino Santoni had previously worked as a cinematographer on Valerio Zurlini's Violent Summer and Girl with a Suitcase. The film uses many locations and actors that would also be used in the Edwige Fenech film Ubalda, All Naked and Warm. The film's warm and playful score was composed by Berto Pisano (Strip Nude for Your Killer, Burial Ground).
The films plot revolves mostly around a drifter/painter/conman that seduces and sleeps with all the women in town. Edwige Fenech's character Antonia (The Naughty Nun) is more a secondary role with the bulk of her performance being the last twenty minutes of the film. The plot involves everyone running around trying sleep with each other and not much else of substance.
The best scene in the whole films involves the conman painter and Antonia. They tell her lover Folco that they are going upstairs to paint of portrait of Antonia. Folco gets drunk and impatient while waiting for them so he goes to see if they are done yet. He is so drunk that he makes out with man dressed in Antonia's close while she and the conman painter make love in the same room. The film is filled with sexual shenanigans' like this scene. The female casts are all naked at some point during the film including Edwige Fenech who also wears a see through night gown in one scene.
La Bella Antonia, prima Monica e poi Dimonia is presented in an anamorphic widescreen that preserves the films original scope photography. There is noticeable print damage in the form of nicks and scratches throughout. Colors look lucid with some scenes looking not as vivid as others and details look crisp throughout. Overall the transfer looks good with the most improvement being that the source could have been cleaned up more. One audio option was included with this release a Dolby Digital mono mix in Italian. The audio sounds clear with a few instances where its sounds flat and not as dynamic.
Screenshots
Download