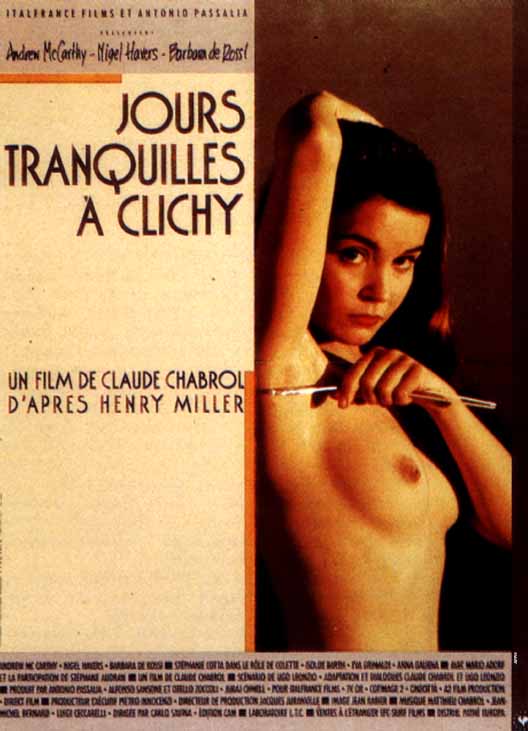 Year: 1990
Duration: 01:55:51
Directed by: Claude Chabrol
Actors: Andrew McCarthy, Nigel Havers, Barbara De Rossi and Stéphanie Cotta
Language: English | French (French subs) + (English subs)

Country: France | Italy | Germany
Also known as: Jours tranquilles à Clichy, Csendes napok Clichyben, Días tranquilos en Clichy, Giorni felici a Clichy
Description: American aspiring writer Henry Miller moved to Paris to write his first book there. Soon he meets Alfred, conductive full time for fun and begins to spend happy time together. After some time, both marry during comic wedding on a young nymphet Colette and already three of them go for a honeymoon. BTW, there's another movie with the same title Quiet Days in Clichy
Review: In this campy Chabrol smear conservative aberration, either in a large, whether in small cells. In this world, there is no life, no characters, no love. Bohemian renegades, spitting from his own jaded, in the face of bourgeois values, though not charged from the pages of Miller's writing or his contemporaries, and from observations of Oscar Wilde. Hedonistic Lord Henry and neophyte with cow eyes Dorian Gray reincarnate in the images of Charles and Joey. Authors, I wanted to insert the stupid frame with an aging patient writer reminds the person of Henry Miller, who can no longer have the female flesh and reminiscing. The following is the trivial narrative with an acquaintance of two associates and a string of brothels repelling his absurdist nenastoyaschestyu.
Miller never felt tragic figure. He never equated his characters and himself. There is no need to select an actor for the lead role similar to the great writer. Pagan elements of free and total adultery subjected to castration. Chabrol tells us another refrain on "If youth knew, and old age could." The authors are not limited succinct story, which gave the name of film. They threw episodes from other stories, novels, and most importantly added a vulgar rant gag. And to the delight of conceited intellectuals greasy collar incapable of comprehending the nature of a phenomenon without a cause-effect relationships.
Movie characters have nothing to do with literary images, but they are not natural in the atmosphere shabrolevskogo world, woven of rabbit fur, bad nudity, shadows Cubism and deliberately retro – aesthetics. Ponderous strained nonsense Claude Chabrol would look so much easier, it does not bear references to the great texts of American literary classics. On the other hand … is not whether these references, the film would have sunk into deserved oblivion.

Screenshots:
Download:
Quiet Days in Clichy (French subs)