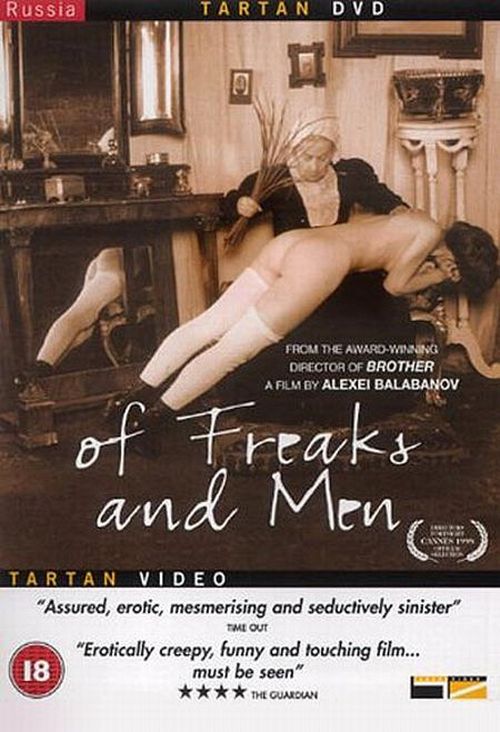 Year: 1998
Duration: 01:29:04
Directed by:  Aleksey Balabanov
Actors: Sergey Makovetskiy, Dinara Drukarova and Anzhelika Nevolina
Language: Russian (English subs)
Country: Russia

Also known as: Pro urodov i lyudey, Про уродов и людей, Des monstres et des hommes
Description: The atmosphere of the film Of Freaks and Men is truly unique: for its historical reconstruction, the elegant two-tone sepia photo, by the quality of the actors, the minimalist sophistication, and the great story telling. It's a story about exploitation, on physical freaks, and especially on the soul freaks.It is bizarre, funny as hell, and very consistent. So, here it is.  In all its weird glory. in two sepia tones, with beautiful round, sexy, fleshy women's arses, and with all the violence that must surround the good sex.
Review of Freaks and Men: Heavy film controversial, but oddly enough, it is still very much. rarely as smart picture emerging. But first things first.
Despite the fact that this is a cruel and heavy film, it is at the same time very beautiful aesthetics. This is the most beautiful and atmospheric film by Alexei Balabanov. Very pleasing to the eye colors and cinematography Sergey Astakhov. For some of the scenes and want to applaud (at least enough to recall the final). Soundtrack perfectly matched, beautiful music. And in general the technical side insanely happy.
But the main advantage of the film is still a script. At first glance, we face common «black" with of being a European art-house. But if you grasp, all much much more difficult. In some places it about cinema and its impact on our lives, sometimes in a love story, and at the same time in the story of good and evil, beauty and filth. But the general idea of the whole picture is that everyone sees only what he wants, and people will never be able to agree, even in the same film, see different things.
Screenshots:
Download: