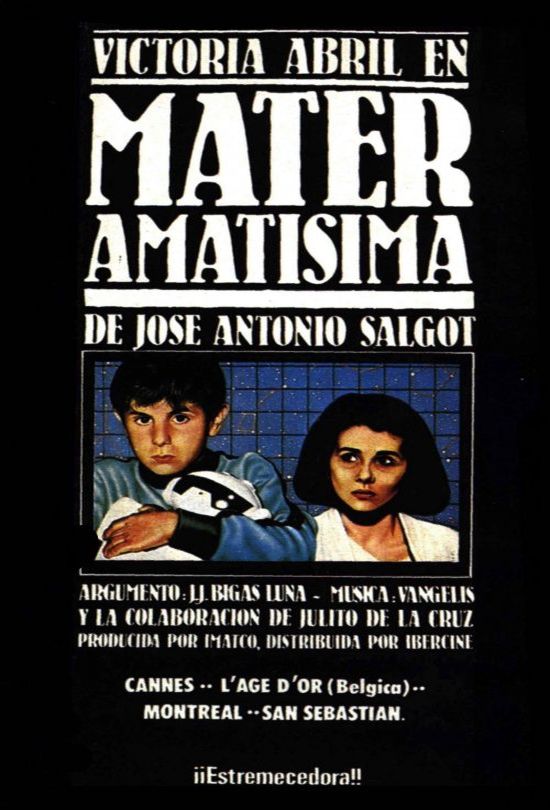 Year: 1980
Duration: 01:30:15
Directed by: José Antonio Salgot
Actors: Victoria Abril, Julito de la Cruz, Jaume Sorribas and Consol Tura
Language: Spanish
Country: Spain
Also known as: Mater amatísima, "Mother, Dearly Loved"
Description: This excellent and disturbing film was written by Bigas Luna and is in the same vein of his early films 'Bilbao' and 'Poodle': same oppressive and obsessive atmosphere. It's very rare, never released on DVD or VHS.

Clara is a single mother raising an autistic son. In spite of that, she loves her Juan way, it seems impossible to love. Forgetting about their personal life, about small and big joy, more and more distant from family and friends and even from a loved one who is ready to share responsibility for the child. But this huge love slowly but surely brings a woman crazy…
Jose Antonio Salgot took the script Bigas Moon completely hopeless , devoid of even a spark of optimism about the drama of the autistic child. More precisely, about a mother whose life ended with his birth , leaving only a painful existence from which there is no exit. Her love , dedication, willingness to give up everything for her son did not mean anything. How not to help and friends and loved one – the trouble is insurmountable. And there is nothing in the world that would be able to take it from the unfortunate Clara .
Let's face it , accustomed to Hollywood fairy tales on this topic see the man " gentle loving mother" would be unbearable . The degradation of the human person, who devoted herself to the care of a sick child , shown in naturalistic detail and leaves no hint of a happy ending – a touching sight . And right in opposition to anything that tries to inspire the church , the state and public institutions.
Not finding the answer maternal love burns inside Clara , like hard drugs . From the cheerful girl in a few years it becomes a somnambulist , a living their own, separate lives . Similarly , as lives become isolated in their little world incomprehensible to others , little Juan . Parents , man , ready to call his wife, Clara , friends – all are thrown beyond this little world , the boundaries of which are narrowed by the day.
Even these drugs, which in desperation resorted Clara , trying to escape from her burning love for his son , do not help. Bestowed their illusory world becomes the replacement of the illusion in which she lives. Her love is not able to break down the walls that enclose her soul Juan. And every day, she suffers with her son . A veil of madness all firmly enveloped her soul.
Screenshots:
Download: