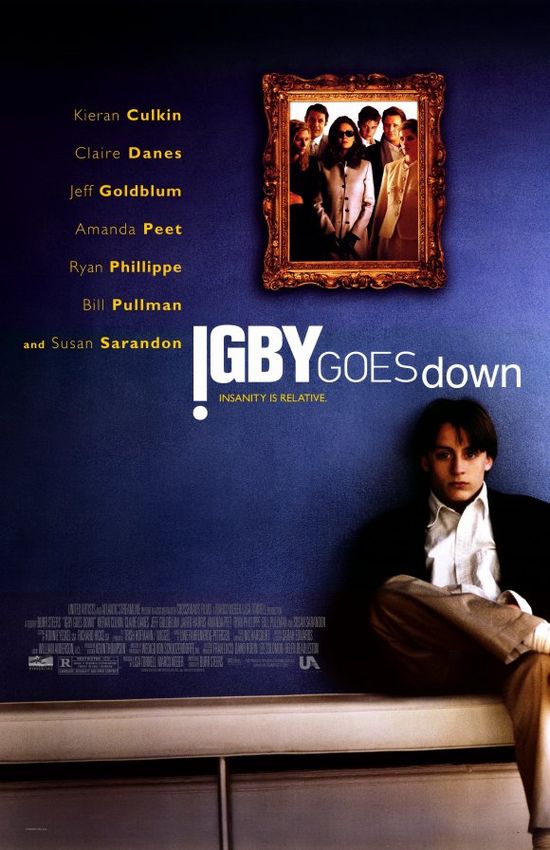 Year: 2002

Duration: 01:37:59
Directed by: Burr Steers
Actors: Kieran Culkin, Susan Sarandon and Jeff Goldblum
Language: English
Country: USA
Also known as: Igby, 17 sai no shohousen, A Estranha Família de Igby, A Estranha Vida de Igby, Igby Goes Down, Igby Vai à Luta, Igby en chute libre, La gran caída de Igby, Mieletön matka, Minden jöhet, O Igby pianei pato, Ucieczka od zycia, Las locuras de Igby
Description: Young guy Igby got mad his "funny" little family: cruel mother, arrogant brother and father-schizo. With their eternal crossings across the country they do not let him to take root in any school, until finally arriving in New York, where boy meets a girl, tortured by life, in which he soon falls in love. How can it all not turned on its head in this situation?
Review: Places satirical, sometimes tragically real impregnated sex and marijuana, the story of growing Igby Sloukomba some general way echoes the history of Holden Caulfield of "The Catcher in the Rye." But in contrast to that, it seems to me a pale, washed out and somehow meaningless.
For what rebelled this guy? To attract attention? Or get rid of it? Because his father is insane? Or inadequate mother? Because his rampant hormones? Or is it that he is just an idiot?
In movies about teenagers long can you look for hidden meaning, double bottom, in general – a black cat in a dark room. To be honest, I myself often doing it. But at least some copyright prerequisites have to be?
Not a very happy family, not the most intelligent charming guy, not a good movie. I do not understand, for what and for what all this was filmed, but because

Screenshots:
Download: