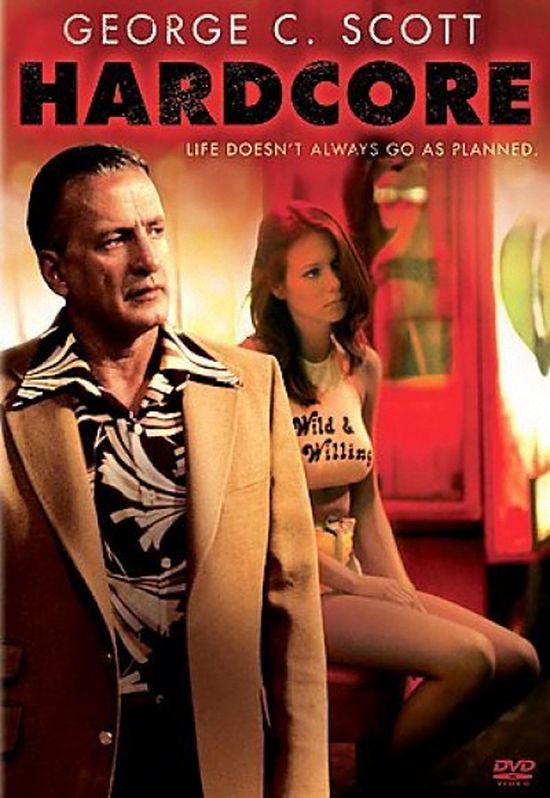 Year: 1979
Duration: 01:47:41
Directed by: Paul Schrader
Actors: George C. Scott, Peter Boyle, Season Hubley and Dick Sargent
Language: English
Country: USA
Also known as: Adolescente en fuite, Hardcore – Ein Vater sieht rot, Hardcore Story, The Hardcore Life
Description: Jake VanDorn (George C. Scott) is a conservative businessman, a devout Christian living in the very religious town of Grand Rapids, Michigan.  His daughter goes to California on a church outing and disappears.  After hiring a seedy detective (Peter Boyle), VanDorn is horrified to learn that his daughter has become involved with pornography.  He travels to California and enlists the help of streetwise sex-worker Niki (Season Hubley) in an attempt to bring his daughter back home.
Those familiar with Taxi Driver and Rolling Thunder may see some similarities in Hardcore.  Not surprising since director Paul Schrader wrote all three.  Lots of sleaze and life in the streets plus an ample dose of violence.  All the things one expects from a Schrader outing.  What's not to like?
Review: The film Hardcore centers around a young girl who grew up in a small, religiously devout town in Michigan. She goes off on a bible-camp trip to California, and promptly disappears. Her father (played BRILLIANTLY by George C. Scott) is a local business-owner who goes to California for information, and eventually hires a semi-sleazy private-dick to help find his daughter. Scott heads back home to Michigan while the investigator makes his inquiries. A few weeks later, the investigator shows up in Michigan and shows Scott (in a pretty harrowing scene…) a short porn reel that shows his daughter being double-teamed in some scummy hotel room. Apparently, daughter-dearest has turned to a life of b.j.'s and face-baths, either by force or by choice. Furious at this change of events, and by the fact that the investigation is turning up so little info after weeks of "digging" – Scott high-tails it back to L.A. to do some "research" of his own. At first, he goes to local porn shops, whore-houses, etc…with a picture of his daughter and asking a bunch of questions. Naturally, he doesn't get too far with that route, as everyone just thinks he's a cop. After a few unsuccessful attempts, he decides to pose as a businessman looking to fund a porn film, and starts making some contacts. This exposes Scott to shady producers, pimps, whores, "actors", and all other types of underground low-lifes. Eventually he hooks up with a small time hooker who knew some of people that hung-out with his daughter. This leads them on a blind chase across California – from L.A., to San Diego, and finally to San Francisco to look for a couple of guys that have been spotted with his daughter, and are into some pretty rough stuff, including making authentic snuff films. Now seriously fearing for his daughter's life – Scott sets up a meeting with someone who claims to know his daughter…and this leads into the dramatic climax. Will he find his daughter? Will she still be alive? If so, why did she leave – was it by choice or force?

Screenshots:
Download: