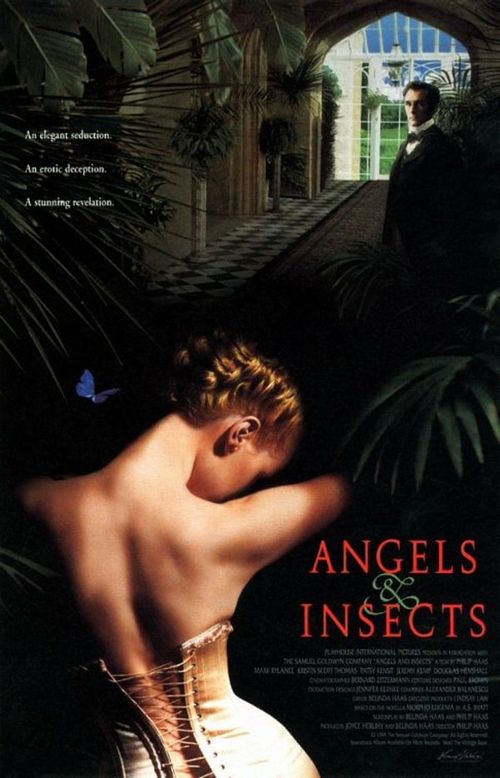 Year: 1995
Duration: 01:57:07
Directed by:  Philip Haas

Actors: Mark Rylance, Kristin Scott Thomas and Patsy Kensit
Language: English
Country: USA | UK

Also known as: Ángeles & insectos, Des anges et des insectes, Angeli e insetti, Angeloi kai erastes, Anjos E Insetos, Engel und Insekten, Enkeleitä ja hyönteisiä
Description: Scientist and entomologist Adamson marries a beautiful woman from a wealthy, aristocratic family. Her relative's wife, who lives in the same estate and nutty entomology, he wrote a scientific book and live in relative peace and happiness, but the case opens his eyes, his wife was in incest relations with her brother …
Review: In the film Angels and Insects you can see many interesting things. The characters are well spelled out, everyone has his own psychological profile, knowable, they are mysterious, more precisely, they have something not quite human, sometimes naive and stupid, which is not always accepted by us. Sometimes it may even seem that the actors play bad, but no! In reality, it is the "real" heroes of novels Byatt: in its closed and open, with and without complexes, and not very educated, but it is losing weight, when the characters are faced with existential situations. In this case, we can evaluate the behavior of the characters in the context of the situation and understand that this or that character behaves somewhat unnatural (often unreasonable), but these are interesting such heroes – they do not show the ideality of the world (this is one of the main theses of postmodernism) .
Philip Haas tries to film one of the creations Byatt, and it turns out it's great: the atmosphere of the film is replete with Victorian spirit, the true britanizmom (seen this movie in the original, you will enjoy from the complexity of the English language), relaxing music of the time in the background , sets and costumes hero arranged so that we fit in the whole text Byatt.
Haas essentially documentary, which was tried for the second time in a feature film. And once chosen for his field of action rather complex and controversial category as a postmodern film. But he clearly succeeded in opening the viewer a nice looking and hearing the painting as "Angels and Insects." Already in the title, we hear the philosophical antithesis, which will haunt us throughout the film as the literal embodiment and in the abstract.
Screenshots:
Download: