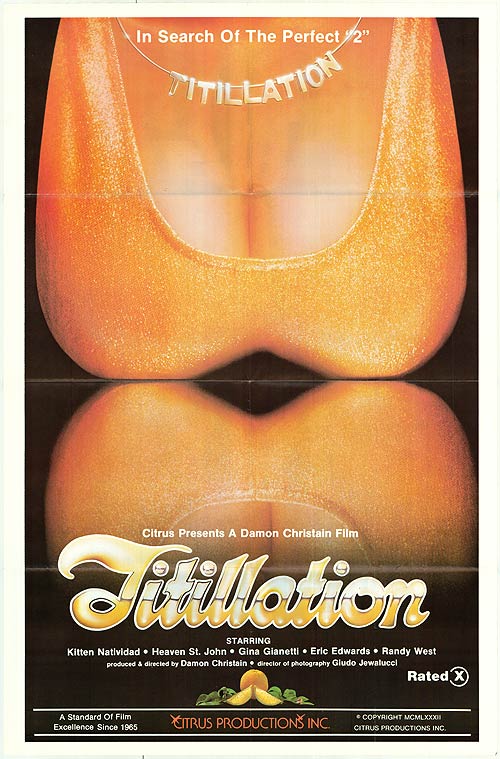 Year: 1982
Duration: 1:15:58
Directed by: Damon Christian
Actors:  Eric Edwards, Randy West, Kitten Natividad
Language: English
Country: USA
Also known as: 
Description:
Starring Kitten Natividad, Angelique Pettyjohn, Eric Edwards and Gina Gianetti, this is a story of the "search of the prefect 2." Millionaire Flix Fitswilly used to collect trophies in his hobby as a big-game hunter. Alas, he has grown tired of the hunt, at least the hunt for animal heads and tusks. He turns to a trophy that has, since a much younger age, always been out of his reach–the biggest, the juiciest, and the most perfect boobs in the world.
The boobs must fit the bronze bra he made, but he's getting old and cannot search as he once did. So, he has his secretary hire two detectives with hopes that they will succeed where he failed. She, having a fine pair herself, is a bit put-off by the request, so the detectives she hires are not exactly rocket scientist. Sure that the two knuckle-heads she hires will have no luck, she apparently is wrong. The two actually begin to work hard at tracking down the perfect set by a series of clues that, mostly, lead to bedrooms and couches.
Of course, Kitten does her standard soft-core stuff, with one time intermixed with a hardcore scene of others so that you can at least dream that it is her.
Anyway, the perfect pair are owned by Candy, who may or may not be really interested in receiving the bra. So, the big question is, will she or won't she?
Screenshots
Download