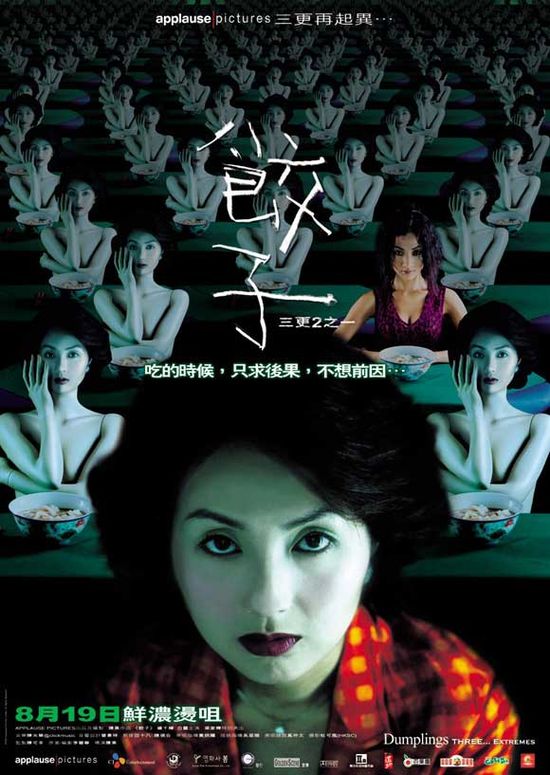 Year: 2004
Duration: 01:31:07
Directed by:  Fruit Chan
Actors:  Pauline Lau, Tony Leung Ka Fai, Bai Ling
Language:   Mandarin | Cantonese ( Eng Subs)
Country: Hong Kong
Also known as:  Jiao zi, Dumplings, Gau ji, Nosiro gevma, Nouvelle cuisine, Pelmeenid, reciosa Iguaria, San geng er zhi yi, Three Extremes: Dumplings
Description: Rich woman Ms. Li loses her appeal and yearns that in her relationship with her husband has returned the passion. To improve her appearance, she seeks the help of May, a local chef. May is preparing for her some special dumplings, which, she says, have a rejuvenating effect. Later it turns out that the special ingredients were preterm fetuses taken from the abortion clinic where May worked before  …
Review: I would not call "Dumplings" a horror film. Nothing extraordinary and too scary I did not see, neither ghosts nor the walking dead I did not see, that if one day the unborn kids amicable systems got out of pots and strangled the unforgettable Aunt May, it can still be … well .. pity that the genre "film abominations" does not exist. Scenes of eating dumplings close-up, even with a loud champing, speak for themselves.
The idea of ​​"Jiao zi" is actually deeper than the challenge of disgust or cannibalism, this is a film about the human cynicism. Most evil – is not that Baba Yaga, Aunt May, although it is not neat, she was not squeamish kids, and this wealthy family of Lee, but it all started quite innocently came to this razneschastnaya Auntie, disgust devoured ravioli, what can you do otherwise hubby throw, but the more the better, after learning about his mistress Mrs. Lee realizes that means only one thing, and then, apparently, on the basis of a nervous breakdown aunt blows the roof. She begins to pester cook, waving in her face her horny pieces of paper in the pleadings of the strongest means, finally, and she can not stand the temptation and an abortion on a girl of five months, knowing it would be the last. We can say here is our mistress went over the heads. In a scene of eating dumplings from this most clearly seen the baby, what wonderful metamorphosis occurred with our heroine. Where then is disgusted face and trembling hands? All we see is the smile of the Cheshire cat, which is becoming more and more widely from ravioli to tortellini. My husband left his mistress, mistress happy, and everything is good, but the secret of beauty little woman comes to the surface. There are thoughts that now Mr. throw his wife out of the house and arrest her aunt, but there it was, our Lord is going straight to his aunt May and asks, "And what do effectively? '. The end is striking in its hopelessness: These two wolves are living together, and in the end kooky Ms. Lee also requested a lover, left behind, abortion, for obvious reasons.
People with no moral values ​​and compassion, and the two of them will live by eating dead meat, in the pursuit of eternal youth, life will be long, but whether they will get pleasure: his wife, shudders at the thought that a spouse will return to the mistress, and her husband, who obviously does not know where else to spend your money?
Review #2: In their desire to be beautiful and young women sometimes make irrational actions. Auntie May-master ravioli having a rejuvenating effect. After all, in ancient times known that fetuses and placenta contain a lot of nutrients. The effect of which can smooth out wrinkles and make the skin smooth. This is what is needed to aging Ms. Lee to return unfaithful husband on the right path ….
As far as cannibalism is immoral in today's society? And that woman is ready to go for the sake of their beauty? Today, China is pressing questions. When all sorts izvraschenskih diet leposaktsii, and even surgical intervention did not popular pursuit of fashion. In «Dumplings" Aunt Mae convincingly justify their methods of rejuvenation, refers to numerous proven sources of the history of China, which argue about cannibalism as something normal and natural.
In the "dumplings" cases are very unusual intertwined elements of mysticism, art-house drama and mesmerizing camerawork. Over the past must pay tribute to the outstanding operator Christopher Doyle is familiar to many beautiful films ("Mood for Love", "2046", "The Limits of Control").
Episodes of eating dumplings accompanied by sounds so terrible that it is not an insurmountable aversion may cause except that the deaf. And although they look very appetizing and edible. But those are not the dumplings "Russian", sold in every supermarket. His aunt dumplings Mei produces only itself and the process of making a show not for the faint of heart: chopped embryos, pale bloody placenta, disgusting five-month corpses of miscarriage …
Really liked the actress who played Aunt May. Cheerful and optimistic 60-year-old woman. Although its appearance and just as she's hot in sex are not. Home visitor Ms. Lee also has an extraordinary appearance. But not good enough to continue to satisfy their lustful husband fawned over every skirt.
Colorful Asian motion picture about the dumplings with embryos unusual family psychologist and cannibalism. After all, do not forget, the embryos are people too, just not yet dorazvivshiesya. This dish is definitely "not for everyone", so look not poison.
Screenshots:
Download: