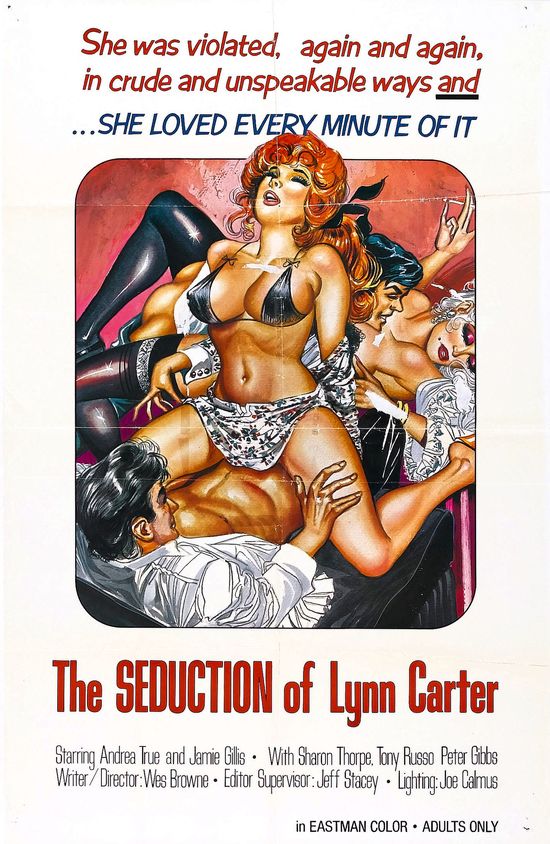 Year: 1974
Duration: 01:15:25
Directed by: Anthony Spinelli
Actors: Andrea True, Jamie Gillis and Sharon Thorpe
Language: English
Country: USA
Also known as: The Seduction of Lynn Carter, Scener ur Lynn Carters kärleksliv
Description:
The girl was broken, over and over, in rough and indefinable ways and …she adored every minute of it!
Lyn has been committed fifteen years and a young son. Although in bed with her spouse, who is about to depart on a two-week business journey, they make sex and he questions her if she's ever been wondering as to what it might be like to be with another man. She informs him she's never been considering but marvels what his effect would be if it did occur. He tells her he would realize and not be vicious. As if destiny had walked in – the next evening, after he's gone, she meets Jamie Gillis and her world adjusts constantly.
Here are a step by step presentation of Lyn who is quickly going out her shell as a homemaker – and enabling her wanton wishes to reveal. As usual, Jamie Gillis performs the wonderful but demented sex consultant who brings Lynn to the heights of ecstacy and deepness of sensual embarrassment. When the relationship begins, the sex is never ending and more perverse than overly caring, with Lynn having new sexual proportions.
A combination of Andrea Ture (Jail Time Girls) and Jamie Gillis ingnites a fireball of fantastic, and extreme animal chemistry in a movie you will never forget.
Screenshots:
Download: