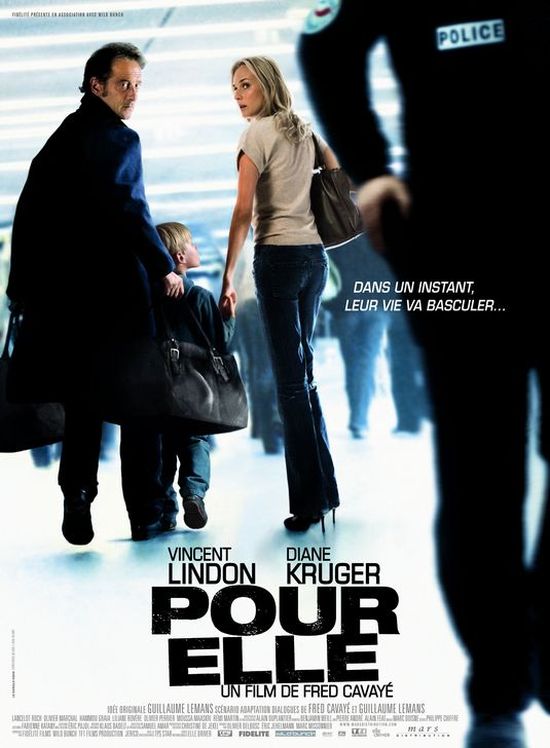 Year: 2008
Duration: 01:32:33
Directed by: Fred Cavayé
Actors: Vincent Lindon, Diane Kruger, Lancelot Roch, Olivier Marchal
Language: French with English subtitles

Country: France | Spain

Also known as: Anything for Her, Por Ella, For Her, Ohne Schuld
Description: Lisa, Julien (Vincent Lindon – Chaos (2001) and School of Flesh) and their little son Oscar – happy family. But one morning the police came for Lisa. She is accused of premeditated murder. All the evidence suggest against it. Now Julien ordinary teacher of French, willing to do anything to save his wife. Even if he has to cross the boundaries of the law.
French-Spanish film by Fred Cavalier "Anything for Her" – is a good example of courage for all the stronger sex and love for women.

Review of Pour elle movie: French-Spanish film Fred Cavalier "Anything for Her" – is a good example of courage for all the stronger sex and love for the woman.
The essence of the story is that a young Liza is accused of a murder she did not commit, and her precious husband is trying to get her out of jail. They have a young son Oscar, which I, by the way, do like: Oscar from the rock of the obedient children, which do not interfere with dads doing business and thus have a temper, and stored for a long time. Lancelot Roch played excellently, despite its still very young age. Or he took the audience spell? It does not matter – still only a plus film.
But I digress. Husband with a tasty imechko Julien develops a mad plan, in consultation with seasoned before this convict. Of course, the methods of saving Lisa will not pass without a gun and chases – but it is very important for the history of the stamp and the genre as a whole. Be that as it may, Julien raises the ears of more than a dozen people, in order to free his innocent lamb. Succeed it or not – on this issue will wrestle each viewer.
Yes, this is definitely a great dramatic thriller, forcing truly empathize with those whose anger no doubt be regarded as good. The cast is memorable, but it was strange to join a couple of palely beautiful Diane Kruger and Vincent Lindon too old, which, however, there is life in the old dog yet. Scenario original and strong character types heroes registered commendable good. Maybe the general action and tightened, but not enough for it to reduce the score.
Anyway, if there is a remake of the film, made in the USA ("Three Days"), the film is definitely worth watching. Is not it?
Film «Pour elle», whose literal translation is the phrase "for her", takes its name from one of the questions the film category. This film is one of the best examples of how a person can sacrifice everything for the sake of the neighbor. Left alone in this evil, gray world, Julien is not looking for excuses, allegedly committed by his wife, not "burn through" the daily life of litigation, anyone who simply will not do any good. He does what he must. Because for all it was worth to go; worth risking all that is, was worth the wait three years in prison, counting the days in between the arrival of her husband, at the cost of the ten-minute meetings to listen to the nasty warning of what's left five minutes before the start of the next frame; worth many times to try to hug her son, who was afraid whether or did not want to put up with the fact that my mother is not home very long time … for the sake of a single kiss on the cheek, hugging and abandoned children as if by chance the phrase "Mom" so that the road after a three-year separation.
Screenshots:
Download: