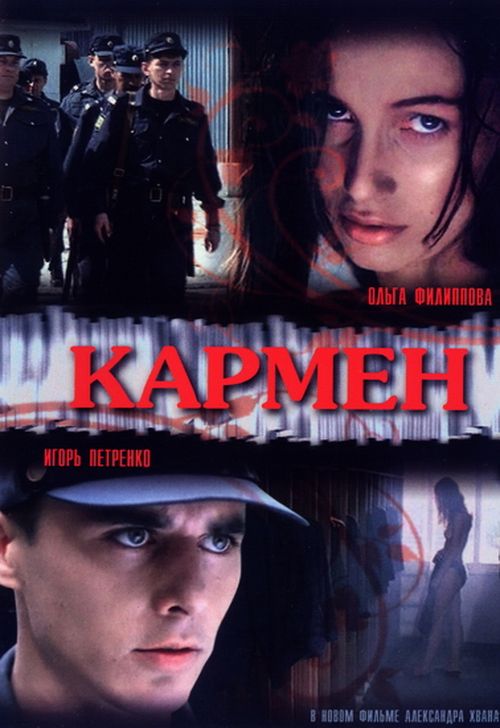 Year: 2003
Duration: 01:48:46
Directed by: Aleksandr Khvan
Actors: Igor Petrenko, Olga Filippova and Yaroslav Boyko
Language: Russian
Country: Russia
Also known as: Karmen, Кармен
Description: He – exemplary police officer, honest and responsive, "good cop", soon to be promoted at work … She – a prisoner, fulfilling her term at the tobacco factory, known for wild and rebellious nature like "Carmen" … Fatal meeting of the girl and police officer changes their lives forever. And it's not even a love story, not another film about the "man and woman", this is a story of passion, passion on the line between freedom and death.
Review: Many believe the picture transfer to a modern style of the immortal novel by Prosper Merimee. If the director is put to it, the idea is not completely worked out. However, I am convinced that the main character was purposely made different to stress that almost every woman Carmen and almost every man Don Jose, but they do not know about it until I met a friend of a friend. Name as the main character is only a hint to the viewer irrevocably submit thoughts on track.
It would certainly be in the director turned the picture holds in tension, a feeling that all end with happy ending is not there for a minute.
Now just about the picture: the actors played well, sometimes zemeten rich experience serial Philippi, but it's even good harmony with a weak script. Scenario – perhaps the only thing in the film did not. All too manipulative thug Carmen trades by anything from theft of some very significant loads due to insider information to the banal robbery of passengers on the bus. Handwriting she can not see, well, for bespredelschitsy too rich qualities gave her a writer. Well, her two helpers could be better – with mates only wallets in doorways rob drunk pedestrians, not more.
Screenshots:
Download: