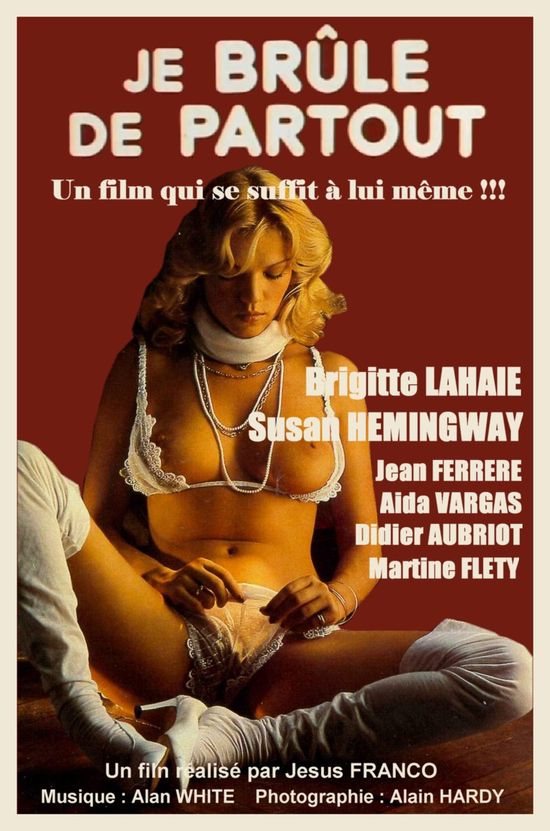 Year: 1979
Duration: 01:21:06
Directed by: Jesús Franco
Actors: Susan Hemingway, Brigitte Lahaie, Jean Ferrere
Language: French
Country: France
Also known as: Je brûle de partout (France; original title) | Dossiers mineures (France; alternative title) | Rapt de nymphettes (France; alternative title) 
Description: The virgin daughter of an important business man is kidnapped in a nightclub by a couple working as sex slave traders.
They sell her to a brothel before realizing she would be worth a very big ransom.
She works on the brothel until the day she is brought before her own father. He is not only a client of the brothel, he is the leader of the traders.
As he realizes what he has caused to his own daughter he repents and decides to bring down the criminal network.
But by this time the police has been on the trail of his daughter for too long and he must pay!
Review: Another Franco obscurity, taken from a VHS with quite lousy image quality, but as (almost) always Franco is worth the effort, and this one comes with Lahaie and Hemingway!!
Jesús Franco (director of Lust for Frankenstein and Falo Crest movies) had a free week and just made one more movie. You can tell there was no real effort to make more than a scripted excuse for sex on film, somewhere between softcore and hardcore. The story is supposed to be a comedy but it is more like a TV melodrama with a lot of naked bodies that the TV would never show. But with Susan Hemingway and Brigitte Lahaie showing their own bodies, the movie is worth while. And keep an ear open for the soundtrack, really above average
Screenshots:
Download: