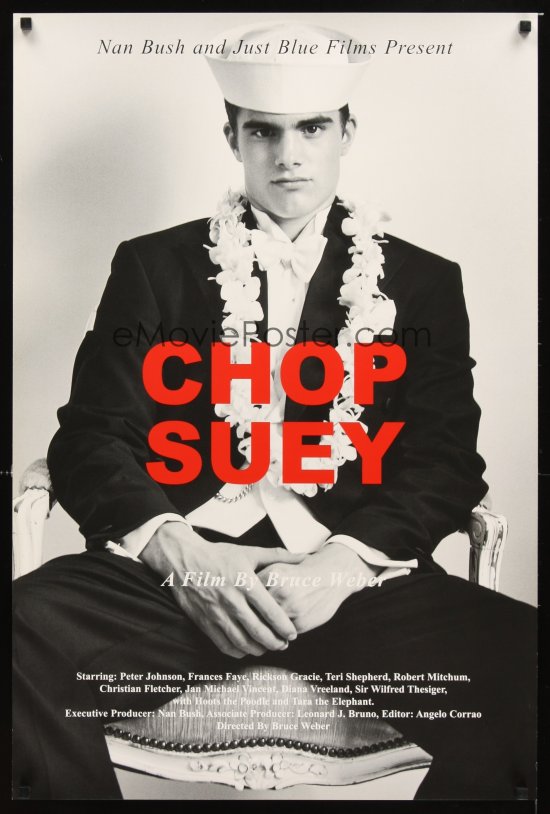 Year: 2001

Duration: 01:34:18
Directed by: Bruce Weber
Actors: Jan-Michael Vincent, Peter Johnson, Frances Faye
Language: English
Country: USA
Also known as: 
Description: The film Chop Suey is illogical, however brilliantly mounted tape, which talks about the most favorite things in the life of a photographer and director, is a magical mix of old scraps of ribbons, jazz pieces, stories of people with whom I was acquainted director interview.
Review: Bruce Weber's discovery of a gorgeous young hunk named Peter Johnson was the beginning of a marvellous collaboration that continued over four years. Plucking the young man from over a thousand boys in training as wrestlers, Weber turned Johnson into a highly-paid photographic model for Ralph Lauren, Versace, and Karl Lagerfeld. Chop Suey uses still photographs and live action footage to chart Johnson's transformation from a pretty young boy into a homoerotic icon.
But the film does much more than such a simple synopsis indicates. An autobiographical work, the film examines Weber's own career as photographer and filmmaker by bringing together, in a structure that replicates the mix of ingredients suggested by the title, a complex collage of images, ideas, reflections, personages and film materials. Weber's voice-over narration-garrulously personal and casually reflective-guides the viewer as he introduces a diverse collection of characters, including singer Frances Faye, Robert Mitchum, fashion guru Diana Vreeland and desert explorer Sir Wilfred Thesiger. Sometimes interacting with them as interviewer, Johnson acts as a polished, charming and confident participant.
The glories of this film are many, and their easy fit together is the result of the brilliant editing. This is free-form filmmaking: transitions from one subject, character or kind of image to another can be startling sometimes, and there is no way to predict where the film will go next. It could be Robert Mitchum singing jazz, a small-town parade, a fashion shoot, a homely gathering around the table, or an educational moment with Weber's own wonderful collection of classic photography. But wherever it takes us, it always seems right. And the thread that binds all the ingredients together is the sense of intimacy between photographer and subject.
It's been a long time since Let's Get Lost, and I for one have missed Bruce Weber. The two intervening short films, Backyard Movie and Gentle Giants, were delightful bon bons, but with Chop Suey we get a full meal.
Screenshots:
Download: