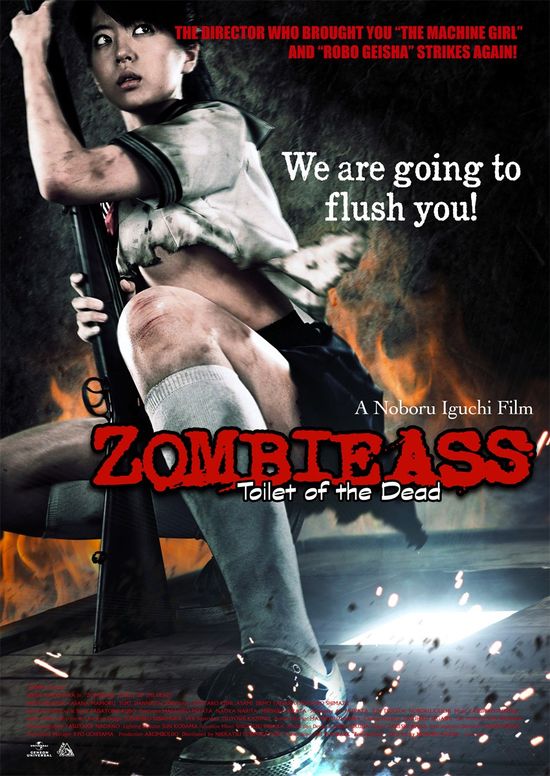 Year: 2011

Duration: 01:24:38
Directed by: Noboru Iguchi

Actors: Arisa Nakamura, Mayu Sugano, Asana Mamoru

Language: Japanese
Country: Japan
Also known as: Zonbi asu
Description of Zombie Ass movie: Japanese horror movies – this is , of course, not only all kinds of stories about the eternal ghost – haired girls in the genre of " Kaidan ", it is also a blood- warped psevdosnaff and trash , crazy, schizophrenic , quaint and exclusively in the Japanese style.
Such a master of the Japanese thrash movie is directed by Noboru Iguchi , the most famous of which are the work of " Girl Gun " and " RoboGeisha " who have a very adequate example of Japanese trash cinema. However punctually Iguchi and gives something , why and tries to ask in bewilderment : " What an interesting herb smoked creator of this , let's say, a movie? '. To those "masterpieces" Iguchi can be referred under the picture of the 2011 killer called " Zombie Ass : Toilet of the Living Dead " , is a specific combination of thrash zombie horror and comedy, the humor of which is constructed on the elements sortirny pornography , as we go regularly immersing in liquid oceans ekskrementnoy because perhaps unprepared audience is waiting for a heavy blow to the tastes and stomachs ( more on the second than the first ) .
Of course , the idea of ​​creepy slugs , proobirayuschihsya to the desired chelovechinkoy through the back gate and somewhat overlaps with the " Dream Catcher " King, and with a " slug " Hanna, and even with " cramps " Cronenberg , but if the above picture to stay in the cycle , then the " zombie Ass : Toilet of the Living Dead " Iguchi represents a highly specific creation, which will be appreciated by only a die-hard fans of thrash and then mostly Japanese , which will transcend any koprofilsky aktsentv film in everything , no idiotic , though not devoid of original shares ideas scenario , no clear mockery of zombie mythology as such. Besides acting in the film is not so bad, camera work Yasutaka Nagano is not very annoying , like a good soundtrack by composer Yasuhiko Fukuda , for all lovers of Japanese operational movie I recommend this utterly strange film .
Screenshots:
Download: