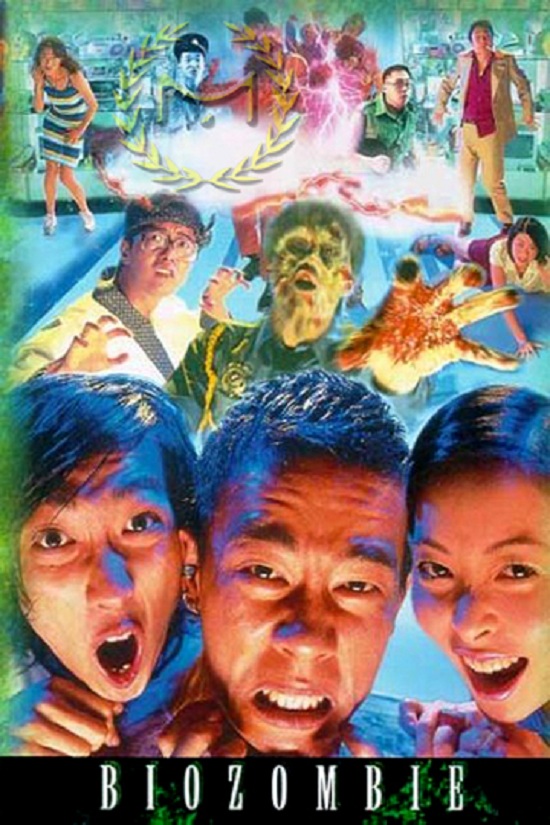 Year: 1998
Duration: 95 min

Directed by: Wilson Yip

Actors:  Jordan Chan, Emotion Cheung, Sam Lee
Language: English Dub | Chinese w Eng SoftSubs

Country: Hong Kong

Also known as: Sun faa sau si (original), Bio zombi

Aspect Ratio: 1.85:1 <– DVD had it at 1.33:1 but that was incorrect; fixed now

Description: Hong Kong's answer to George Romero's Dawn Of The Dead. A soft drink tainted with bio-chemicals has the power to turn people into flesh-eating zombies. A man drinks from the bottle, and wanders into the night. As two young VCD sellers (Woody Invincible and Crazy Bee) from a local mall are returning to the mall with their bosses' car, they hit the man. Unsure of what to do, they bring the man back to the mall with them. The mall closes, and soon there are zombies everywhere! A small group of mall employees must bond together to try and fight their way out.
Although not the standard zombie splat-fest which i had hoped for, I've gotta say I totally enjoyed this quirky little flick. Apparently made on a shoestring, the whacked out, neon dripping, Plaza setting offers an almost hallucinatory overtone to the proceedings. The story throws a small group of young HK shopkeepers into a siege by the undead. Kind of plays as a combination of DOTD and Night of the demons, helped by a heavy dose of HK youth culture and comedy, very reminiscent of that in other HK comedy-horrors (Mr Vampire springs to mind.) Despite wanting a bloodbath, I couldn't help but to appreciate it for what it is – entertainment.
"Mallrats" with Zombies, Chinese style!
Screenshots
Download