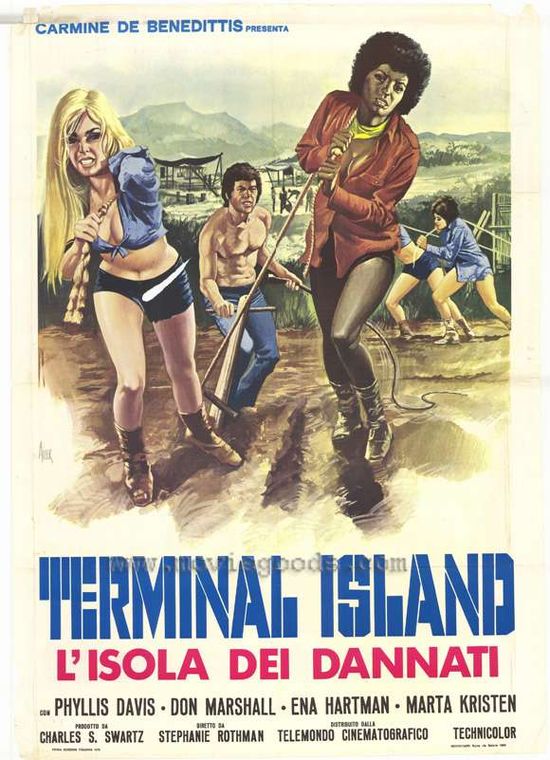 Year: 1973
Duration: 01:27:35
Directed by: Stephanie Rothman
Actors: Ena Hartmen, Barbara Leigh, Phyllis Davis, Tom Selleck, Don Marshall, Marta Kristen
Language: English
Country: USA
Also known as: Knuckle-Men, Le dernier pénitencier, L'île du non-retour, Männer wie die Tiger, La isla de los condenados
Description: Following a Supreme Court decision to abolish the death penalty, the state of California finds itself landed with a bunch of heavy-duty killers with nowhere to go. After being falsely declared dead, the convicts are dumped on San Bruno island and left to fend for themselves.
Classic grindhouse sexploitation with regular outbreaks of violence, catfights and half-assed social commentary confine this strictly to the trash can. In other words, it's a riot!
Features Magnum PI's Tom Selleck in an early role.
Review: Near future. All criminals are no longer held in the prison, and transported to a remote desert island, which lies to the side of the sea lanes. There are the most notorious murderers, terrorists, communists and maniacs. Miserable have no other choice, so as to adapt to the conditions of life. The island forms a kind of colony of prisoners under brutal Bobby. Once on the island received a criminal named Carmen. Lifestyle slum colony, built on unquestioning subordination of women to men, it is necessary not to her liking. Carmen decides to leave the colony, and try to live independently. Gradually joined it the same kind of unhappy reign of Bobby. Of course, sooner or later, the two groups of people must break out war …
Screenshots:
Download: