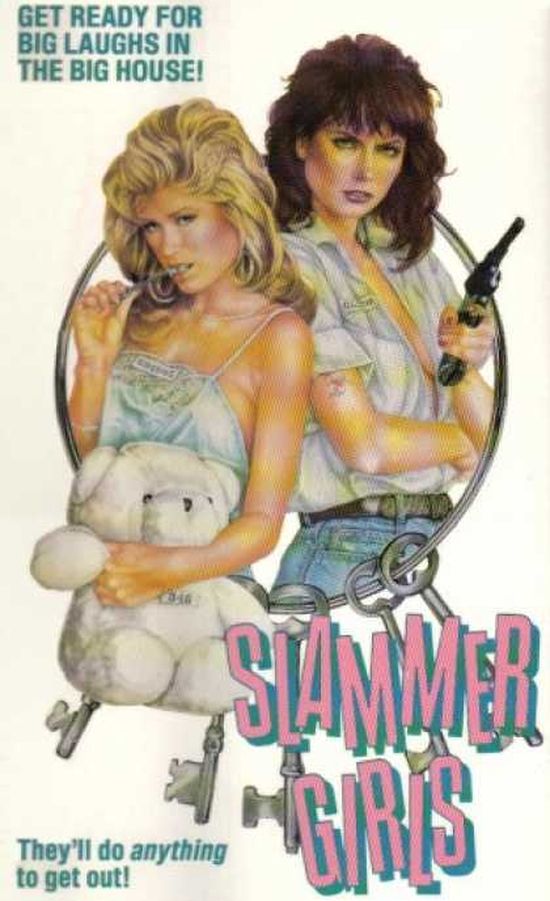 Year: 1987
Duration: 01:20:34
Directed by: Chuck Vincentt
Actors: Devon Jenkins, Jeff Eagle, Jane Hamilton, Darcy Nychols, Ron Sullivan
Language: English
Country: USA
Also known as:  The Big Slammer, Knastakademie, Les taulardes, Ragazze sotto chiave, Cadeia de Mulheres
Description: Slammer Girls is pretty bad, but it has a charm that grows on you. If I still smoked marijuana, I would probably be raving about this film because it's that type of surrealism it achieves by mixing Zucker brothers style humor ( a 20% hit & miss ratio with this film) with the WIP genre.
The ambitious porn director Chuck Vincent (Jack and Jill) not only wrote this film, he shot it under the name Larry Revene, & edited it under the name Marc Ubell. Naturally the cast is made up of porn stars which lends a quirky and refreshing tone to the film because the nudity doesn't seem as forced as in a film like Purgatory. Hiding under aliases are familiar porn stars like Veronica Hart, Sammantha Fox, Sharon Kane (Girls Gone Bad 4), and Sheri St. Claire. The plot involves the new governor, who is very enthusiastic about putting folks in the electric chair, getting shot in the penis. An all out glove fitting search nabs Melody Cambell (Devon Jenkin) and puts her in the big house. You get your usual bunch of inmates, but they are twisted in good faith to render silly gags to the proceedings.
Slammer Girls does a good job of twisting the WIP clichés, and using enough in-joke humor to make it worth while. Although not consistently funny, if you judge the film for what it is, you can tell that this production is atleast attempting to make an entertaining film. The bizarre ending that breaks into a musical number will have Troma fans wanting to add this title to their collection. Sadly prolific director Chuck Vincent died of AIDS in 1991.
Screenshots:
Download: