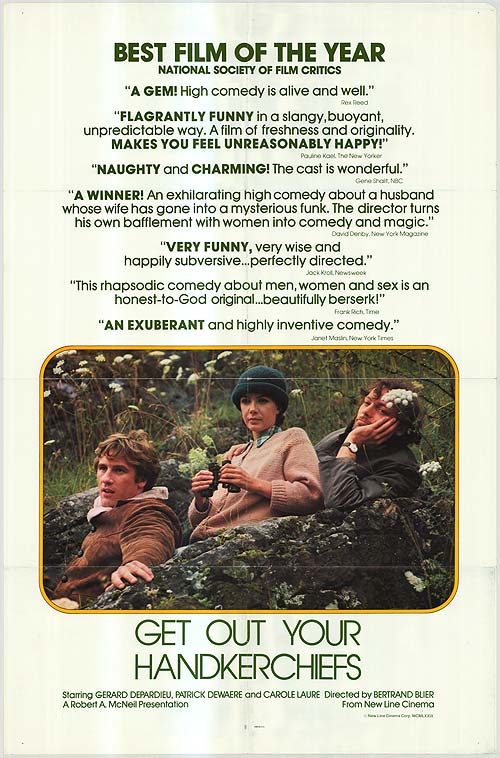 Year: 1978
Duration: 01:48:43
Directed by: Bertrand Blier
Actors: Gérard Depardieu, Carole Laure, Patrick Dewaere, Michel Serrault
Language: French (English subs)

Country: France
Also known as: Préparez vos mouchoirs, Preparate i fazzoletti, Get Your Handkerchiefs Ready, Vil du elske min kone?
Description: Raul can't stand this anymore: for several months, he did not see a smile on the face of his wife Solyanzh. Desperate, Raul gives her to the first comer – a stranger in a bar. Perhaps he will make her laugh?
Review: This is the first and only film directed by Bertrand Blier, that I could see. In addition, I received a sincere pleasure of watching this movie, which not everyone can share, but most of the so sure. The film received the award 'Oscar' in 1979 in the category 'Best Foreign Language Film', beating, by the way, a very strong rival in the Soviet films – `White Bim – Black Ear` Stanislav Rostotsky. And it is very interesting feature of the films, has received deserved critical acclaim, as earlier paintings Bertrand Blier (Beau Pere) particular success in the circles of Film did not use.
The plot, put on by the same written script Blier, contains a wonderful mix of genre context – in the film, you can watch the drama and melodrama, comedy with subtle irony inherent in the French sense of humor, and a little priklyuchenseski developing events, interspersed with a little bit of crime. And several genres can create quite a strong hand, using the same scene or episode, making the film richer and sophistication.
Very interesting to watch performances by the cast of the first composition, which made the young Gerard Depardieu and Patrick Dever, who previously worked together

Screenshots:
Download: